2012 Volkswagen Tiguan Price - £21 085
Volkswagen will put on sale the new revised Tiguan on 1 July. The prices start from £21 085 and rising to £28 020 for the top-of-range 2.0 TSI 210 PS 4WD DSG 7 Spd model. 2012 Volkswagen Tiguan is available in both two- and four-wheel drive.
There are four trim levels: S, SE, Sport and Escape. The standard equipment includes – 16" alloy wheels, Climatic air conditioning, DAB radio and alarm.
SE adds 17" alloys, 2Zone electronic air conditioning, Park Assist, iPod and Bluetooth preparation plus Fatigue Detection system.
The Sport versions benefit from a multi-function steering wheel and Bluetooth connectivity, plus chrome plated roof rails, heat insulated and tinted glass from the B-pillar back, sport seats, front fog lights and sports suspension.
The new Escape model features comfort and convenience features including Bluetooth and multi-function steering wheel.
The engine range includes: a twin-charged 1.4-litre TSI with 160 PS, a 2.0-litre TSI with 180 PS and a 2.0-litre TSI with 210 PS. The diesel variants are: a 2.0-litre TDI 110 PS and a 2.0-litre common rail TDI with 140 and 170 PS.
Both the 2.0-litre TDI 110 and 140 PS models, as well as the 1.4-litre TSI 160 PS with two-wheel drive are designated BlueMotion Technology models.  As such they feature Stop/Start and battery regeneration systems to enhance fuel economy and reduce emissions.
The options list features: Keyless Entry and Start System, the RNS 315 satellite navigation system, Lane Assist and Light Assist. Also available as an option is XDS electronic differential lock.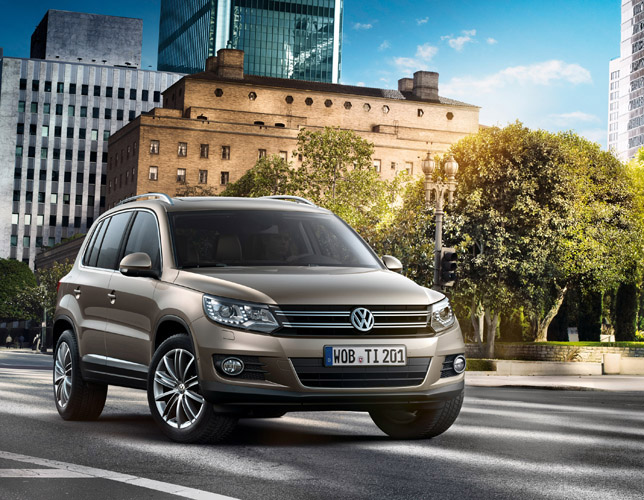 Check out the price list, below!
2012 Volkswagen Tiguan line-up:
| | | | |
| --- | --- | --- | --- |
| Trim level | Engine derivative | CO2, g/km | Price, £ RRP OTR |
| S | 1.4 TSI 160 PS 2WD BMT 6spd man | 156 | 21,085 |
| S | 1.4 TSI 160 PS 4WD 6spd man | 178 | 21,990 |
| S | 2.0 TDI 110 PS 2WD BMT 6spd man | 139 | 21,730 |
| S | 2.0 TDI 140 PS 2WD BMT 6spd man | 139 | 22,280 |
| S | 2.0 TDI 140 PS 4WD BMT 6spd man | 150 | 23,280 |
| S | 2.0 TDI 140 PS 4WD BMT DSG 7spd | 158 | 24,775 |
| | | | |
| SE | 1.4 TSI 160 PS 2WD BMT 6spd man | 156 | 23,450 |
| SE | 1.4 TSI 160 PS 4WD  6spd man | 178 | 24,355 |
| SE | 2.0 TSI 180 PS 4WD 6spd man | 199 | 25,185 |
| SE | 2.0 TSI 180 PS 4WD  DSG 7spd | 199 | 26,675 |
| SE | 2.0 TDI 140 PS 2WD BMT 6spd man | 139 | 24,645 |
| SE | 2.0 TDI 140 PS 4WD BMT 6spd man | 150 | 25,645 |
| SE | 2.0 TDI 140 PS 4WD BMT DSG 7spd | 158 | 27,170 |
| SE | 2.0 TDI 170 PS 4WD 6spd man | 158 | 26,325 |
| | | | |
| Sport | 1.4 TSI 160 PS 2WD BMT 6spd man | 156 | 23,920 |
| Sport | 1.4 TSI 160 PS 4WD  6spd man | 178 | 24,825 |
| Sport | 2.0 TSI 180 PS 4WD 6spd man | 199 | 25,655 |
| Sport | 2.0 TSI 210 PS 4WD 6spd man | 199 | 26,530 |
| Sport | 2.0 TSI 210 PS 4WD DSG 7 Spd | 199 | 28,020 |
| Sport | 2.0 TDI 140 PS 2WD BMT 6spd man | 139 | 25,115 |
| Sport | 2.0 TDI 140 PS 4WD BMT 6spd man | 150 | 26,115 |
| Sport | 2.0 TDI 140 PS 4WD BMT DSG 7spd | 158 | 27,640 |
| Sport | 2.0 TDI 170 PS 4WD 6spd man | 158 | 26,795 |
| | | | |
| Escape | 2.0 TDI 140 PS 4WD BMT 6spd man | 150 | 25,840 |
| Escape | 2.0 TDI 140 PS 4WD BMT DSG 7spd | 158 | 27,335 |
Source: Volkswagen