2013 Dodge SRT Viper and Viper GTS [video]
Dodge has announced the two new models - SRT® Viper and SRT Viper GTS. Both are developed by Street and Racing Technology (SRT®) and come with superb performance, superior craftsmanship, new technologies and creature comforts.
This is the fifth generation of the iconic two-seat, American-built supercar has been deliberately evolved to incorporate superior craftsmanship, a host of new technologies and ergonomic improvements while respecting its visceral legacy of outright performance.
Some of the highlights include:
All-aluminum, mid-engine 8.4-liter V-10 delivers an estimated 640 horsepower and 600 lb.-ft. of torque - the most torque of any naturally aspirated sports car engine in the world
Chassis enhancements bring 50 percent improvement in torsional stiffness
Triple-digit weight reduction results in Viper best power-to-weight ratio
Standard safety features include electronic multistage stability control, traction control and new 4-channel anti-lock brake system (ABS)
All-new, innovative interior designs set new standards with premium materials, new technologies and superior craftsmanship
All-new carbon-fiber and aluminum skin is sculpted for high-speed stability and a slippery .364 drag coefficient (Cd)
Timeless exterior design incorporates iconic Viper styling cues with a contemporary execution
"After a gut-wrenching period of uncertainty, the Street and Racing Technology brand team is extremely proud that our hand-built in Detroit, flagship supercar is back and ready to take on the performance car world," commented Ralph Gilles, President and CEO - Street and Racing Technology Brand and Motorsports, Chrysler Group LLC.
"Beyond being the flagship for the new SRT brand, the launch of the 2013 Viper proves that we simply would not let the performance icon of the Chrysler Group die. Willed to live on by a very special group of performance enthusiasts inside the company and across Viper Nation, this SRT team under our new leadership was challenged to not just continue the legendary Viper, but to create a world-class supercar that would showcase the very best we have to offer.", he added.
The 2013 SRT Viper is powered by a new 8.4 liter all-aluminum, V-10 overhead-valve engine.
It boasts tra-high flow and lightweight composite intake manifold, high-strength forged pistons, sodium-filled exhaust valves, new catalysts to reduce back pressure and an aluminum flywheel that reduces reciprocating losses. More than 25 lbs has been shaved from the fully dressed engine.
The power is insane – 640HP (471 kW) and 813Nm (600 lb-ft) of torque, which makes it the engine with most torque of any naturally aspirated power unit in the world.
To handle all that power, the manufacturer coupled the beast with Tremec TR6060 6-speed manual transmission that has been improved with a shorter throw shifter, closer gear ratios and a final drive ratio that has been shortened to 3.55 from 3.07.
The 2013 Viper models will be more engaging to drive and top speed is now achieved through 6th gear with maximum engine speed (redline) at 6 200RPM.
The braking system is also solid - 4-piston Brembo brakes with fixed-aluminum calipers, and vented rotors with a diameter of 355 mm by 32 mm, are used at all four corners.
The available SRT Track Package features lightweight and slotted two-piece rotors from StopTech.
The 5-spoke, forged-aluminum "Rattler" wheel design on the 2013 Viper model is available with fully polished (standard), fully painted Hyper Black or fully painted low-gloss black finishes.
The Viper GTS has a split 6-spoke forged-aluminum "Venom" wheel design with three available finishes, including polished face with graphite-painted pockets (standard), fully painted Hyper Black or fully painted low-gloss black.
Available SRT Track Package wheels are ultra-lightweight, track-ready wheels in Hyper Black or matte black finishes.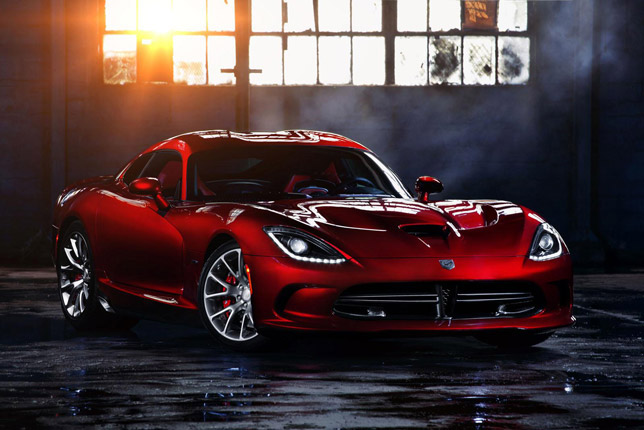 Source: Dodge