Dodge SRT Viper at the 2012 SEMA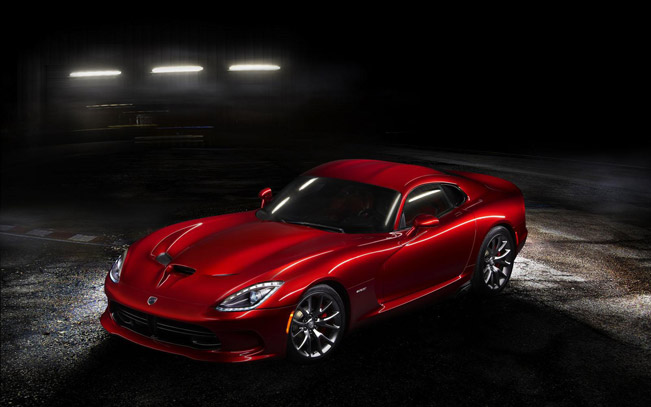 Mopar has introduced a wide range of more than fifty upgrades for the new Dodge SRT Viper.
By itself, our all-new SRT Viper stands out from the crowd," commented Pietro Gorlier, President and CEO of Mopar, Chrysler Group LLC's service, parts and customer-care brand.
"For those owners who want to take the next step in customization and personalization, Mopar stands ready with more than 50 quality-tested performance parts and accessories.", he added.
The list of accessories is huge, but this is small part of it: Performance Cross Car X-Brace, Carbon Fiber Coil Covers, Industry-first Wireless Charging Pad, Performance Cat-back Exhaust System, Black Leather Shift Knob, Billet Shift Knob, Pedal Kit, Bulkhead Satchel, Door Sill Guards, Six-point Safety Harness, Katzkin Leather Interiors, Stage 3 Coilover Suspension Kit, Racing Exhaust System, Brake Rotors, Performance Headers With J-Pipe, Vehicle covers.
You can find full description and prices of the parts below!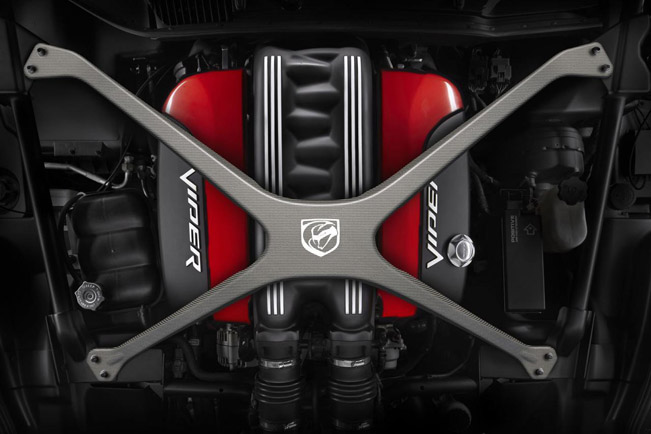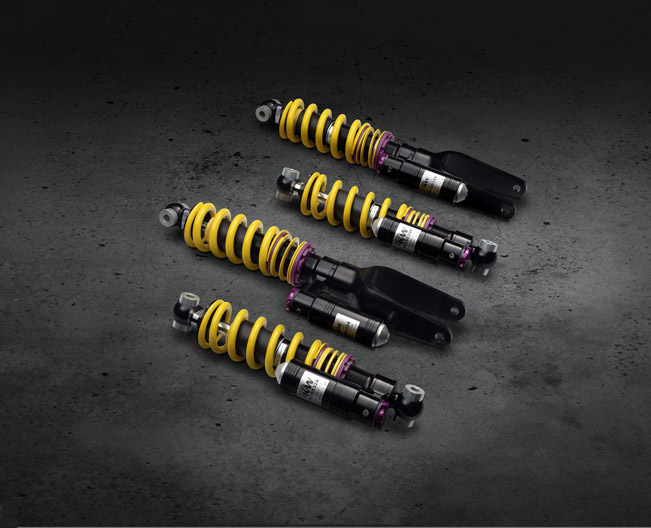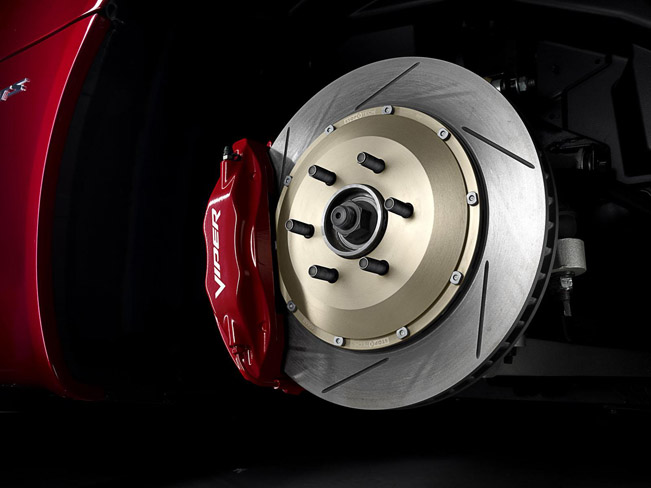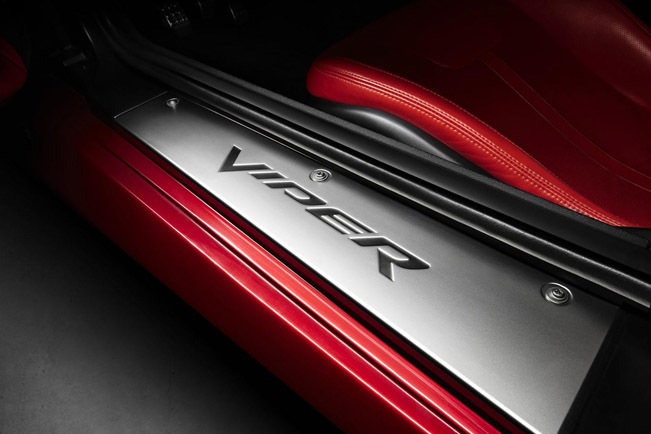 Performance Cross Car X-Brace
With single-piece carbon fiber construction, this hand-made brace has more than 30 layers of carbon fiber optimally aligned to manage driving loads. Brace features topology optimized structurally efficient design, aerospace-grade stainless steel attachment bushings, and significant weight savings over production aluminum engine brace. Polished, exposed carbon fiber weave complements hood inner finish. Front, carbon-fiber cross-car brace. MSRP: $3,175, part number 82213416
Stamped stainless steel layered with a generous amount of carbon fiber has these engine covers screaming for attention. These covers definitely hold their own, or may be paired with the Mopar Cross Car X-Brace to form a venomous combination. MSRP: $880, part number 82213419.
Industry-first Wireless Charging Pad
Professionally installed within easy reach, the ultra-convenient wireless charging pad simultaneously powers multiple devices. Just equip your smartphone or player with a flexible cover that integrates wire-free charging technology (sold separately), place anywhere on the charging pad and you're good to go. No tangled wires, no deciding which device to charge first. MSRP: $275, part number 82213712
Performance Cat-back Exhaust System
This growl means business. The deeper tone you get from adding this stainless steel exhaust system communicates impressive horsepower and torque gains – and the added perk of improved fuel economy. The system includes two mufflers, mandrel-bent tubing, right and left turn-out assemblies, and four 2.5-inch clamps. MSRP: $668, part number P4510608
Carbon fiber wraps the bulkhead satchel and is designed to be a direct replacement for both the SRT and GTS bulkhead compartments. This feature includes a universal integrated quick-release camera mount. Owners may track their on-track action with the security and convenience of a mounted camera inside of the vehicle. MSRP: TBD, part number 82213434.
A sand-blasted aluminum finish gives the pedal additional stopping power. Features unique race-inspired contoured design and Stryker-engraved footrest pedal. Alloy construction stands up when you step on it. Accelerator, brake and clutch with Viper logo. MSRP: $255, part number 82213410
Industrial design cues reflect the heavy-duty inner workings of the machined G5 Billet aluminum shifter. A carbon fiber shift top features gunmetal pattern under a smooth satin clear finish. MSRP: $163, part number 82213426
Gives a real feel for Viper's shorter shift throw, the leather-wrapped shift knob is enhanced with a satin chrome and gunmetal cap. MSRP: $158, part number 82213425
Bright, polished chromed door sill guards emblazoned with the bold Viper logo keep this collector's car collectible by protecting the vehicle's entry points from small dings and scratches. MSRP: $205, part number 82208805AB
Keeping up with 640 horses requires a little extra equipment. This race-ready belt system anticipates the Viper's g forces from every angle and keeps the driver in optimal position to take the beast through its paces. MSRP: TBD, part number 82213431.
Katzkin Leather Interiors
Katzkin offers a range of seating accessories that let you take the Viper interior to the next level. Premium leather trim packages include embroideries, piping, two-tones, suede and a range of colors. Fully custom leather seats, or four established designs from which to choose. MSRP: TBD, part number LRZD0131TI
Stage 3 Coilover Suspension Kit
With lightweight aluminum construction, this suspension system is three-way adjustable for compression rebound and ride height. It bridges the gap between street systems and full race systems. MSRP: $5,995, part number 82213435
Keep those 640 horses in check with StopTech® two-piece slotted lightweight rotors that combine with the Viper's Brembo® calipers to reduce rotating inertia and unsprung mass. A patented curved-fin design contributes to improved brake cooling and significantly reduces fade, even under extreme conditions. The StopTech brake rotors, tires, and lightweight wheels combine to reduce 60 pounds of unsprung, rotating mass. Two-piece front set. MSRP $1,445, part number P5155125 (front). MSRP: $1,445, part number P5155126 (rear).
A low back pressure exhaust system specifically tuned for Mopar race headers (P5155828). Features a pressure drop equal to that of a straight pipe. The four-tube perforated design reduces exhaust noise with minimal size and weight. MSRP: $1,005 , part number P5155831
Performance Headers With J-Pipe
These race headers are constructed of heavy-duty stainless steel and are equipped with a five-tube flange that allows easy installation without removal of the engine. With a primary tube diameter of 1.75 inches, its 5-into-1 collector allows for maximum torque and horsepower gain. The "J" pipe connects race headers to the race exhaust. It may be used when customizing the exhaust system or by itself depending on vehicle tuning requirements. MSRP: $3,495, part number P5155828
For the ultimate in indoor protection, SATIN STRETCH™ Lycra fibers optimally stretch to show off Viper's curves. The special stitching methods, invisible seams and auto-show quality fit make this the cover of choice. Its inner-liner pampers Viper with fleece. The cover comes in a unique Viper storage case. Black with Silver Stripes, MSRP: $352, part number 82213248 Red with White Stripes, MSRP: $352, Part Number: 82213240 Blue with White Stripes, MSRP: $352, Part Number: 82213347
Source: SRT