2013 Ford Transit Connect - 4.0 liters / 100 km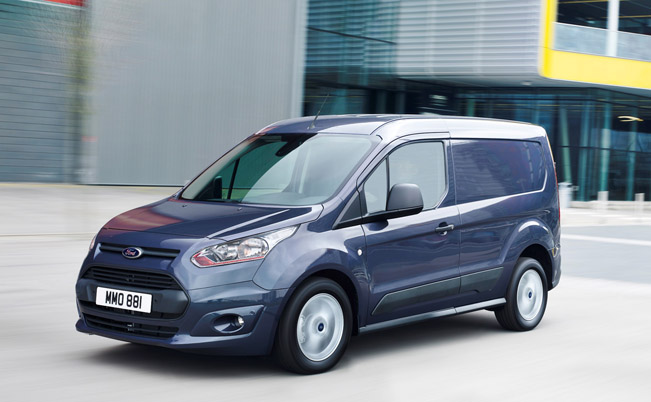 Ford has announced the all-new 2013 Transit Connect offering best-in-class fuel efficiency – 70.6 mpg (4 liters / 100 km).
The engine is a 1.6 liter Duratorq TDCi with 95HP. IT enables dramatic reductions in operating costs by reducing fuel costs by as much as £1,600 compared with key class rivals over a typical four-year ownership period. The engine range also includes the highly fuel-efficient 1.0-litre EcoBoost petrol engine – twice winner of the International Engine of the Year – delivering class-leading petrol fuel economy of 50.4mpg and CO2 emissions of 129g/km.
Transit Connect's reduced fuel bills are supported by further improvements in routine servicing and maintenance costs with extended service intervals of up to 20,000 miles or 12 months.
The stylish all-new Transit Connect has been engineered to set new standards for load-carrying ability, cost of ownership and dependability within its class.
Available in short-wheelbase and long-wheelbase versions, Transit Connect offers a spacious and practical load area with total volumes of 2.9m3 and 3.6m3 (SAE – with full bulkhead fitted) and a maximum payload of up to 1,000kg. Ford will offer Van, Double-Cab-in-Van and Kombi derivatives. Deliveries of the all-new Transit Connect van are scheduled to start towards the end of 2013.
Fuel cost saving over an 80,000-mile, 4-year lifecycle (fuel cost £1.40/litre):
| | | | |
| --- | --- | --- | --- |
| Model | Combined fuel consumption (mpg) | Total fuel cost (£) | Cost difference (£) |
| Ford Transit Connect ECOnetic 1.6 TDCi 95PS | 70.6 | 7200 | |
| VW Caddy 1.6TDi 75kW BlueMotion Technology | 57.6 | 8833 | + 1633 |
| Peugeot Partner 1.6 e-HDi 90 Stop & Start | 57.6 | 8833 | + 1633 |
| Citroen Berlingo 1.6 e-HDi 90 Airdream | 58.8 | 8653 | + 1453 |
| Renault Kangoo Energy dCi 90 | 65.7 | 7744 | + 544 |
Previous model 220 BASE 1.8 TDCi 75PS 5-speed manual compared with new model 220 BASE 1.6 TDCi 75PS 5-speed manual. Set by independent RV provider, CAP
Source: Ford