2013 Hyundai-RMR Genesis Coupe - Formula Drift
Hyundai Motor America will be lead sponsor of the RMR Genesis Coupe driven by former Formula Drift champion and acclaimed stunt driver, Rhys Millen.
The road-going version of the model is already available on the market. It comes with aggressive powertrain and styling enhancements sure to appeal to purist, rear-drive sport coupe buyers.
The Formula Drift race car has been extensively drift-prepared by RMR, making more than 600HP (441 kW) to create the extreme drift angles and blinding smoke both fans and judges love to see. This race-prepared powertrain is further evidence of the engineering durability of core Hyundai production engine components used, including engine block, heads, and more.
"Formula Drift is the best race-fan oriented example of extreme car-control driving. It's also the best competitive arena for us to highlight the rear-drive power and handling finesse of the new Genesis Coupe," said Steve Shannon, vice president of marketing, Hyundai Motor America.
"It's thrilling when a driver of Rhys Millen's caliber combines tire-smoking power with surgical drifting precision. And, in addition to the intense drifting action, Hyundai will provide trackside interactive facilities where drift fans can check out its latest products, driving games, music partnerships and race fan gifts. With the thousands who joined us at our interactive area in 2011, we intend to expand our fan outreach even further in 2012.", he added.
Check out the Formula Drift calendar for this year below.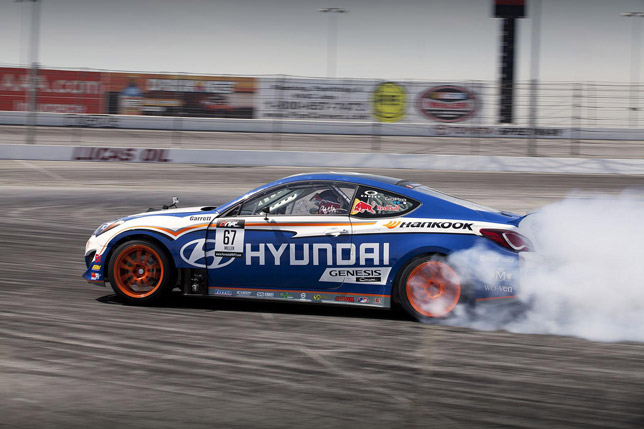 2012 FORMULA DRIFT SCHEDULE
April 6-7: Streets of Long Beach, California
May 11-12: Road Atlanta, Georgia
June 1-2: Palm Beach International Raceway, Florida
June 22-23: Wall Speedway, New Jersey
July 20-21: Evergreen Speedway, Washington
August 24-25: Las Vegas Motor Speedway, Nevada
October 12-13: Irwindale Speedway, California
Source: Hyundai