Hyundai JP Edition Genesis Coupe To Be Unveiled At SEMA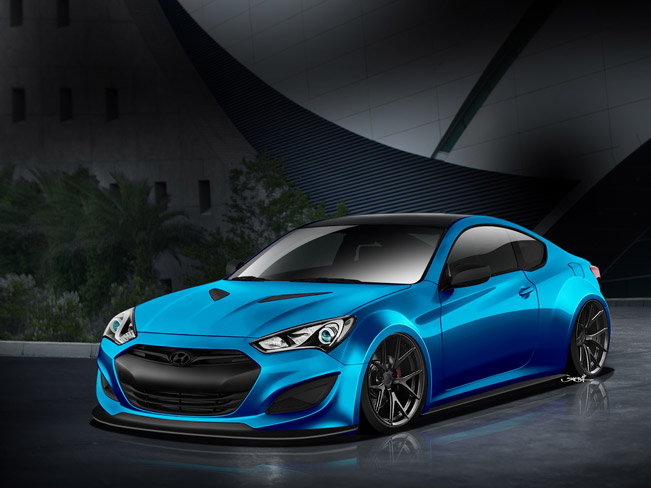 Hyundai is linking up again with the tuner John Pangilinan to create an exquisite custom-developed JP Edition Genesis Coupe in a striking Atlantis Blue exterior color. The designer is already known for selecting retina-bending color themes for his Hyundai SEMA concepts. The eye-catching coupe concept is going to make its debut at the 2013 SEMA show in Las Vegas which will take place between 5th and 8th of November.
Ragarding the concept vehicle, there has been made modifications on the powertrain in order that the car achieves most cost-effective power gains. The transformations included are an AEM cold air intake, ARK Performance exhaust, turbo downpipe, and friction-reducing Lucas Oil.
In addition, the perfect ride height and body-to-wheel balance is ensured by the installation of KW Variant 3 coil-overs, Whiteline sway bars, and an ARK Performance strut bar. This special Genesis Coupe will run on 19-inch MORR VS52 concave mono-forged wheels in mystic black, coupled with Toyo Proxes T1R 275/30 ZR19 tyres for the front and 315/25 ZR19 tyres for the rear.
The perfection of this tuning is further strengthened by the addition of Brembo Gran Turismo brake kit with oversized 15-inch calipers. Furthermore, the exterior is emphasized by an ultra-wide custom metal fender flares from TS Designs, designed by Jon Sibal.
The unique exterior color is achieved via a brilliant BASF Atlantic Blue Metallic paint applied by Auto Explosion, and complemented by custom graphics from S&A Design. For aero management, an APR carbon-fiber splitter and Seibon carbon-fiber side and rear lip kits have been fitted. But this is not all, custom headlights with V-LEDS have been also added and they were delivered by the Retrofit Source and Retrofit House.
The interior of this JP Edition is also exclusive. Pangilinan chose RECARO Cross Sportster seats with a custom Katzkin suede and smooth leather treatment. And in order to hold the driver and passenger in place, the designer have chose Takata Drift III harnesses fixed to a custom harness bar complete with a mounted GoPro Hero 3 video camera.
At last, Pangilinan also made the entertainment electronics a top priority. He had selected for this concept the following components: Alpine Electronics System built by BP Auto Sound, Alpine INE-W927HD head unit, Alpine SPR-60C component 2-way speaker system, two Alpine SWR-T10 10" thin subwoofers, Alpine MRX-M55 mono power amp, Alpine MRX-F35 4/3/2 channel power amp, Scosche Electronics, Accumat HyperFlex sound deadening, EFX Elite Series braided multi-core interconnects, EFX speaker wire, amp power kit and ground distribution block, Kinetik power supply and battery, V-LEDS lighting.
Source: Hyundai