2013 Land Rover Defender UK - excellent value for money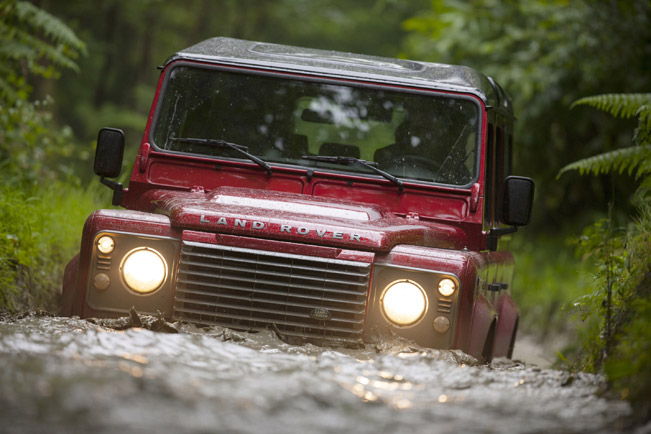 Land Rover has announced the new 2013 Defender. It will feature a higher level of specification, three additional options and a choice of two new exterior body colours, Barolo Black and Havana.
Options of a new premium seat design, upgraded in-car entertainment and a choice of four new contrast roof colours are now available to Defender customers.
Substantial improvements were made to the specification last year, including the introduction of the EU5 2.2-litre diesel engine, ventilated discs and detail improvements to the three speed-limiting options were also added for fleet users wanting to benefit from effective control of fuel costs. The 2.2-litre diesel engine produces 122HP at 3,500rpm and torque of 360Nm at 2,000rpm, giving a 0-60mph time of 14.7 seconds and a top speed of 90mph.
"The appeal of the Land Rover Defender has been strengthened with the opportunity for customers to enhance their driving comfort and also to personalise their vehicle with a range of contrast roof colours. Underpinned by the powerful 2.2-litre diesel engine and its go anywhere capability, the iconic Defender retains the rugged appeal that it's always been famous for but now with even greater customer choice," commented John Edwards, Land Rover Global Brand Director.
The 2013 Land Rover Defender hits the market priced at just £22,350.
Land Rover Defender four option packs:
Cold Climate Pack
Heated front seats
Heated windscreen
Comfort Pack
Air Conditioning
Audio System - Single Slot CD & Radio with MP3/AUX
Convenience Pack
Electric Front Windows
Remote Central Locking
Off Road Pack
All terrain Anti-lock Braking System (ABS) and Electronic Traction Control (ETC)
Heavy Duty Steel Wheel - Goodyear MT/R Tubeless Tyre
Tow Ball, Drop Plate and Electrics
Under Ride Protection Bar
Roof Appointment Pack
Glass - Rear 1/4 Windows
Roof - Station Wagon
Exterior Pack
Mudflaps - Front
Roof Appointment Pack
Roof - Body colour
Sidesteps
Step - Rear Folding
Wheel Arches - Body colour
Style Pack
Boost Alloy Wheel & Continental ContiCrossContact AT Tyre
Front & rear antiroll bar
Locking Wheel Nuts
Metallic Paint
Tow Ball, Drop Plate and Electrics