2013 Peugeot 301 - Designed for Bad Roads and Big People
Just by looking at it, the Peugeot 301 does not strike you as an exceptional off-roader. It's not really an off-roader at all but it's creators most certainly did focus on it's terrain capability. It has been designed to withstand the harshest of road surfaces, the hottest and most humid climates or the coldest. The end result is a robust compact sedan that has had more than 4,000,000 km of testing behind its back.
Aside from the appealing engine range, the 301 offers some improve-my-driving-experience type of features. There is for example a running gear adapted for running on poorly surfaced roads. More screw fixings than normal all over the chassis, double seals for dust and humidity protection, a heated lower screen and an outstanding climate control unit.
It needs to be since you get a lot of space inside this seemingly compact sedan. We'll let you decide how compact is a 4,44 m lump of metal. The 2.65 wheel base leaves room for quite a compartment.
Width at front elbows: 1,409 mm
Width at rear elbows: 1,395 mm
Leg room for the back seat: 121 mm
Boot volume: 640 liters
Sales are expected to begin from the 1st of November in Turkey. Then the network will start to expand covering Central and Eastern Europe, Russia, Ukraine, Greece, the Maghreb, the Middle East, the Gulf States and African countries. Latin American and Chinese markets are also expected to get some of the action.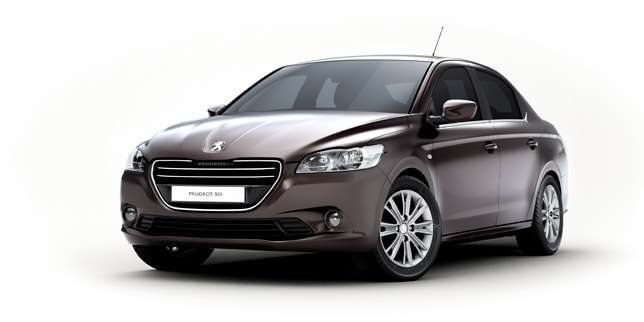 Source: Peugeot