2013 Peugeot 301 - the new compact four-door saloon
2013 Peugeot 301 is the new compact four-door saloon from the brand Peugeot, which is made with the aim to conquer the international markets. It has an exciting new design, which undoubtedly will appeal to many people.
In addition to that the 301 combines both accessibility and improved level of status. In fact, the brand expects for this model to become one of the most successful and best-selling vehicles worldwide.
2013 Peugeot 301 delivers more luxury and styling due to the new features it includes. In addition to that it incorporates the latest stylistic codes of Peugeot. In other words and as you can see on the pictures below, it offers modern design enhanced with powerful stance.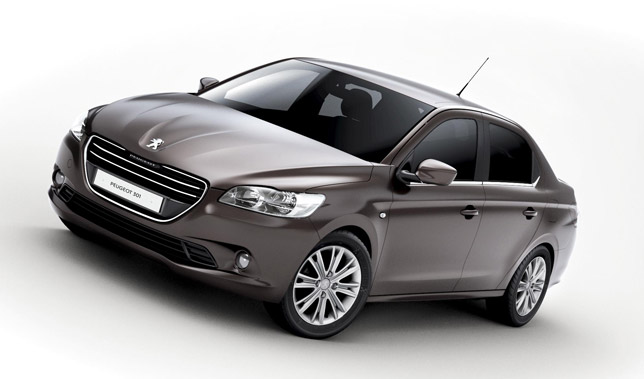 The 301 has an overall length of 4.44 metres. This means that it will give its customers optimized and generous structure. Its other basic characteristics are:
• wheelbase of 2.65 m;
• volume of 506 dm3;
• safe handling combined with high levels of comfort;
• wide range of safety equipment : ESP, ABS, up to four airbags, emergency braking assistance, ISOFIX, etc.
More importantly the new 301 includes the latest generation petrol and diesel engines, with power values ranging from 71 hp (52 kW) to 115 hp (86 kW). The engines can be equipped with and manual, piloted or automatic gearboxes:
• 1.2 l VTi 52 kW (71 bhp) (1) with manual or EGC ( electronic gearbox control)
• 1.6 l HDi 68 kW (92 bhp) with manual gearbox
• 1.6 l VTi 85 kW (115 bhp) with manual or automatic gearbox
This Peugeot model will benefit from the new range of 3 cylinder petrol engines (1.2 l VTi) which include advanced technology. Thank to it, they combine driving pleasure and reduced fuel consumption.
Furthermore, the 301 incorporates modern comfort equipment: electronic air conditioning, MP3 audio system with Bluetooth hands-free kit and USB connection, remote opening of the boot, rear parking assistance, etc.
The new Peugeot 301 will have its world premiere at the Paris Motor Show in September this year. It will go on sale from 1st of November 2012.
Source: Peugeot