2013 ROUSH Ford Mustang RS
"Engineered on the track, refined for everyday" is what ROUSH say about their latest Ford Mustang RS. It's a MY 2013 and the RS stands for "ROUSH Six". The base platform used for it is the rather sensible 3.7-liter V6 Mustang.
We say sensible because the power still stands at the stock 305 hp which are good for 31 mpg of economy on the highway. It's slightly unusual for ROUSH to not glue a giant, fuel guzzling supercharger. But where the Mustang lacks in boost, compensates in suspension engineering. Brembo brakes peeking out from 19-inch, directly lifted from the Ford Mustang GT, alloy wheels and ROUSH lowering springs which lower the center of gravity by around one inch.
As for visuals, the RS shares many features with the ROUSH Stage vehicles – high-flow upper and lower grilles, a front chin splitter, side rocker splitters and a trunk spoiler. The way to tell apart the RS is by looking at the fender "R" badge on either side and also at the "R" ROUSH faux gas cap. Optional components (not really needed) are the hood scoop, rear quarter window louvers and the RS exterior side and hood graphics.
Inside, the floor mats and center console have the markings of "ROUSH" the pedal box in the driver's foot well is custom made. Available is also a black leather trim a suede wrapping for the steering wheel and a black or white shifter ball. Ambiently lit ROUSH door sill plates complement the whole exclusive look.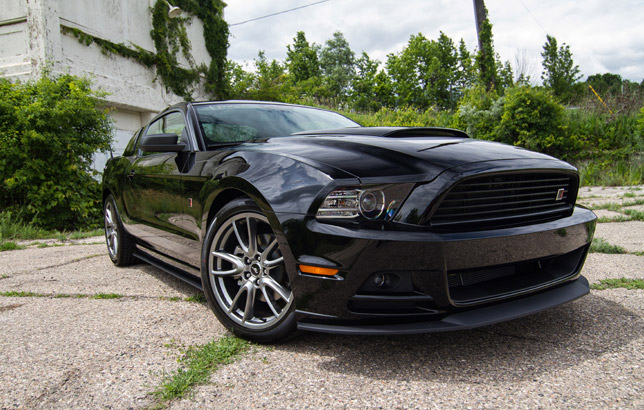 Source: ROUSH