2013 Shelby GT500 Super Snake - 662HP and 855Nm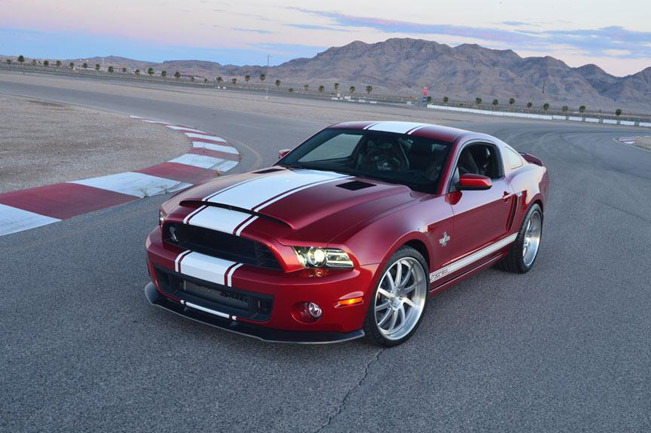 Shelby now offers the 2013 GT500 Super Snake in either a 662HP or 850HP version 2013MY GT500 Super Snake offers optional "wide body" for the first time in history.
With a base model rated at 662HP and an optional 850HP version, the limited edition 2013 Shelby GT500 Super Snake also features new styling cues, color options and optional performance upgrades at a lower base price. Only 500 total 2013 Super Snakes will be built; the car is available as a coupe or convertible in the entire color palette offered by Ford Motor Company on the Shelby GT500.
The special edition comes with a sport-tuned suspension, Wilwood brakes and an upgraded cooling system. The options list include 13" wide rear tire and wheel package which was featured on the Caroll Shelby Tribute car, that debuted at the Pebble Beach Concours d'Elegance.
"When Ford launched the 2013 Shelby GT500, we were bombarded with requests for Shelby American to offer a Super Snake package for the car," said John Luft, president of Shelby American.
"Our team worked closely with Ford Racing and other key partners to develop our new fire breathing snake. The result is the most powerful base model Super Snake ever at 662 horsepower, which is available at prices lower than previous models. By checking off a few boxes in the series of optional equipment, you can take home a street-legal 850 horsepower version that runs on pump gas.", he added.
The interior features embroidered headrests and floor mats and some Shelby special edition elements.
The base version of Shelby GT500 Super Snake is powered by a 5.8 liter supercharged V8 with astonishing 662HP (494 kW) and 855Nm (631 lb-ft) of torque. The more powerful option is the same engine, but with a Whipple or Kenne Bell supercharger. The result is whopping 850HP (634 kW) and more than a 1000Nm (740 lb-ft) of torque.
The 2013 Shelby GT500 Super Snake post-title package starts at $28,995.00 for the 662 HP version and $39,995 for the 850 HP model, not including the base car. Only 500 of these cars will be built, all at the Shelby American factory in Las Vegas.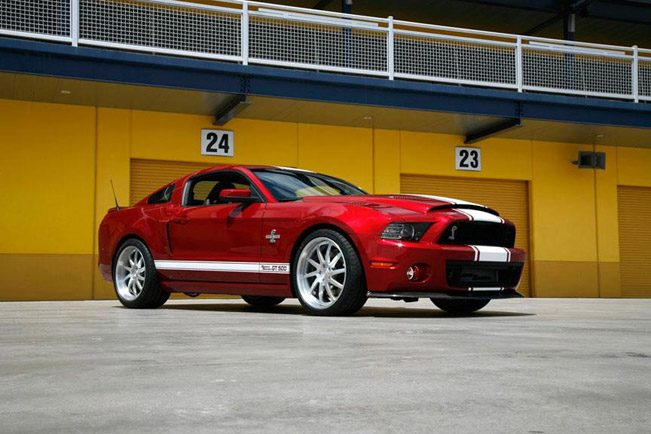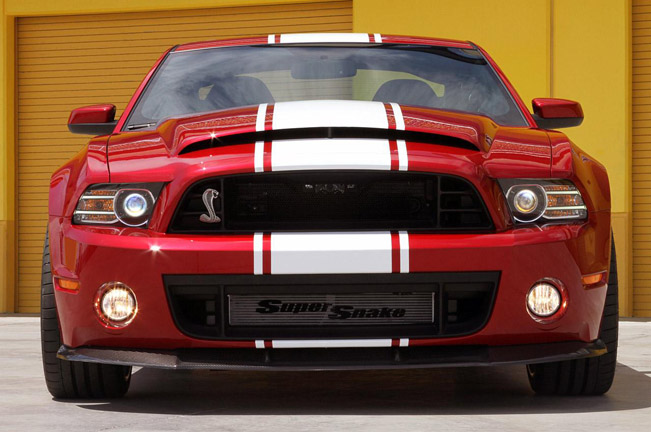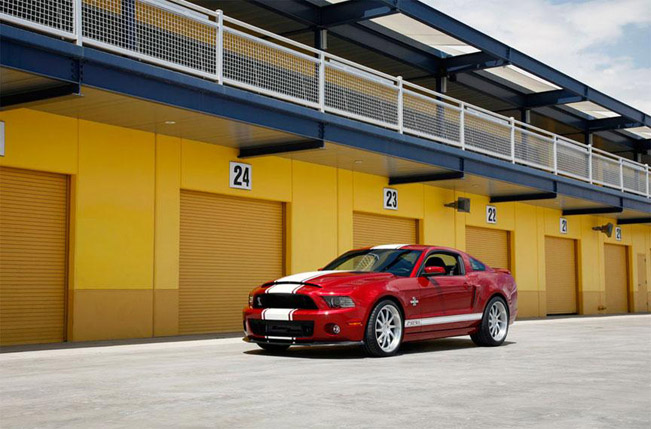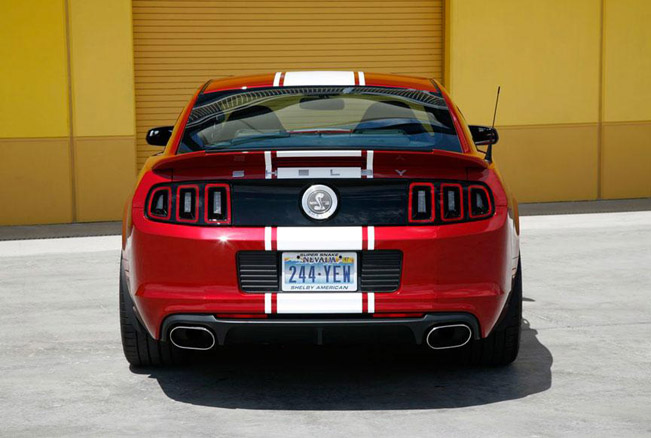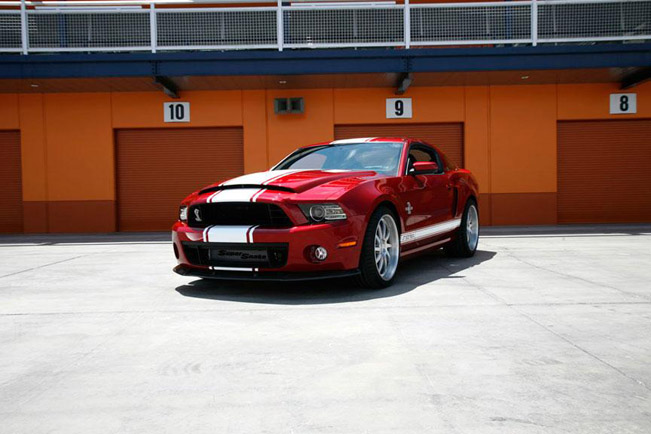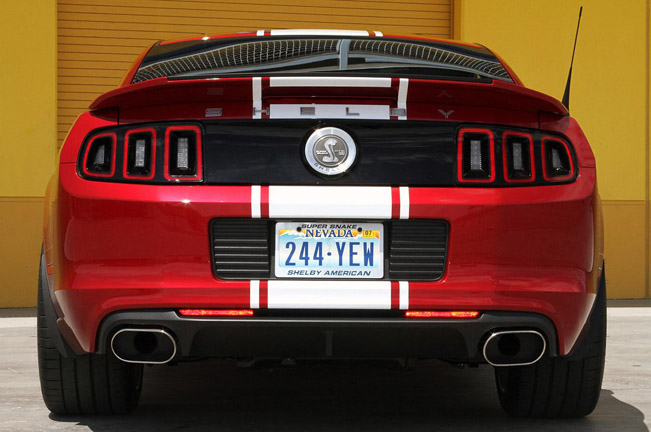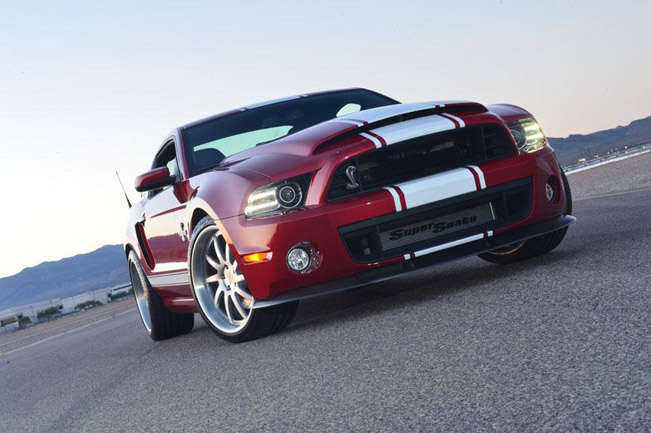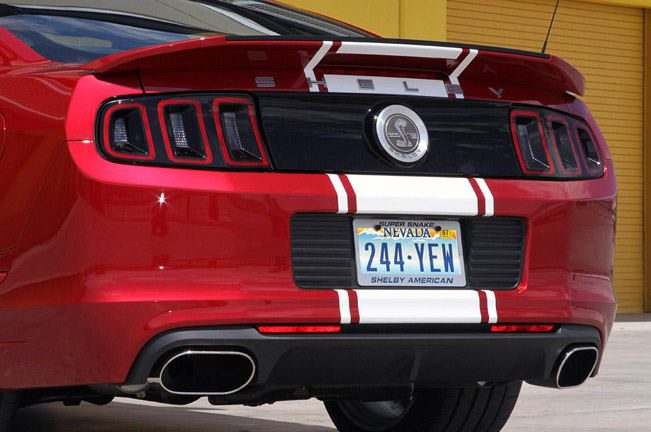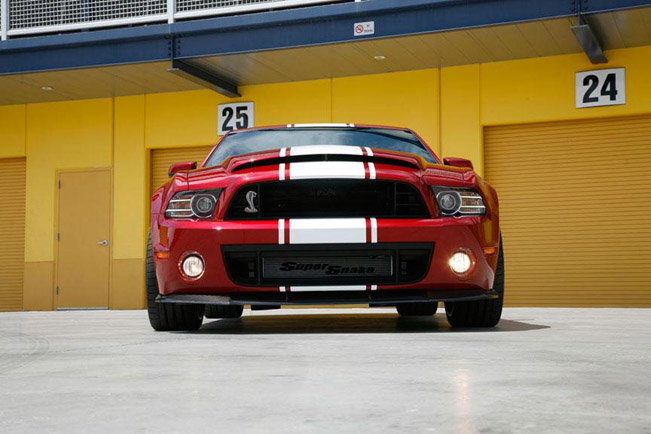 The Shelby GT500 Super Snake is a post-title program based on the Ford Shelby GT500. The 2013 Ford Shelby GT500 Super Snake post title package includes:
Standard base tune is 662 HP and 631 ft./lbs. of torque
6-speed manual transmission with 3.31:1 rear axle ratio and short-throw shifter with optional 3.73:1
Upgraded suspension package
Shelby Performance cooling package with a new radiator, heat exchanger and aluminum cooling tanks
New spoked Shelby-designed 20-inch wheels and performance tires
Shelby / Borla exhaust system
Optional Shelby / Ford Racing 850 hp Whipple supercharger or 850 hp Kenne Bell supercharger
Forged Shelby / Wildwood brakes with 6 piston fronts and 4 piston rear calipers and cross drilled / vented rotors
Front brake cooling ducts and behind the door side scoops
Unique fiberglass hood featuring classic Shelby Super Snake design
Shelby signature Super Snake stripes in either matte black, matte white, silver or blue
"Super Snake" vehicle badges, and unique CSM number interior and engine plates
"Shelby" lettering across the rear deck lid
Optional two tone leather interior
Shelby signature embroidered headrests, floor mats and other Shelby designed components
Source: Ford