2013 Skoda Superb Facelift - UK Price £18,555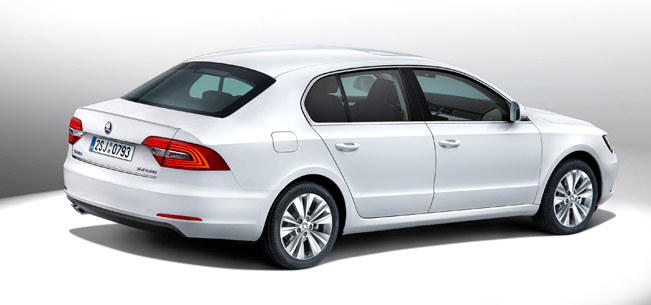 Skoda UK has announced the full specs and price list for the 2013 Super Facelift. The luxurious saloon starts from just £18,555 for the 1.4 liter TSI S Hatchback, while the top-of-the-range Laurin & Klement Estate model costs £32,455 powered by a 2.0 litre TDI CR 170HP DFP engine. It also comes with 4x4 AWD system and 6-speed Direct Shift Gearbox.
The Superb facelift will be available in the UK with six advanced engine options: three petrol and three diesel. Power outputs range from 105HP (1.6 TDI CR) to 260HP for the 3.6 V6 model.
Engines are up to 19% more economical than the previous generation units, and a fuel-efficient GreenLine version offers emissions of only 109g/km.
"The Superb continues ŠKODA's tradition of offering a huge amount of space, engineering excellence and great value for money.", commented Alasdair Stewart, Brand Director for SKODA UK.
"Since its launch 12 years ago, the Superb has been lauded for its versatility, comfort and equipment.  This comprehensive facelift builds on these and we are confident that the excellent improvements to fuel consumption and CO2 will appeal to both fleet and private customers.", he finished.
Check out the full pricing and equipment lists below!
Price and engine availability
| | | | | | |
| --- | --- | --- | --- | --- | --- |
| S | CO2 (g/km) | Recommended OTR price | BiK (2013/14) | P11D value | Difference v previous Superb |
| Hatch | | | | | |
| 1.4 TSI 125PS 6spd | 138 | £18,555.00 | 19% | £18,375.00 | £570.00 |
| 1.6 TDI CR 105PS 5spd DPF | 117 | £19,760.00 | 18% | £19,705.00 | £915.00 |
| 1.6 TDI CR 105PS 5spd DPF (GreenLine III) | 109 | £20,070.00 | 16% | £20,015.00 | £815.00 |
| 2.0 TDI CR 140PS 6spd DPF | 119 | £20,360.00 | 18% | £20,305.00 | £900.00 |
| 2.0 TDI CR 140PS 6spd DSG DPF | 135 | £21,795.00 | 22% | £21,615.00 | £900.00 |
| Estate | | | | | |
| 1.4 TSI 125PS 6spd | 142 | £19,680.00 | 20% | £19,485.00 | £555.00 |
| 1.6 TDI CR 105PS 5spd DPF | 119 | £20,885.00 | 18% | £20,830.00 | £915.00 |
| 1.6 TDI CR 105PS 5spd DPF (GreenLine III) | 113 | £21,195.00 | 17% | £21,140.00 | £815.00 |
| 2.0 TDI CR 140PS 6spd DPF | 121 | £21,485.00 | 19% | £21,430.00 | £900.00 |
| 2.0 TDI CR 140PS 6spd DSG DPF | 137 | £22,920.00 | 22% | £22,740.00 | £900.00 |
| | | | | | |
| --- | --- | --- | --- | --- | --- |
| SE | CO2 (g/km) | Recommended OTR price | BIK (2013/14) | P11D value | Difference v outgoing Superb |
| Hatch | | | | | |
| 1.8 TSI 160PS 6spd | 158 | £21,595.00 | 23% | £21,365.00 | £435.00 |
| 1.6 TDI CR 105PS 5spd DPF (GreenLine III) | 109 | £21,535.00 | 16% | £21,480.00 | £440.00 |
| 2.0 TDI CR 140PS 6spd DPF | 119 | £22,000.00 | 18% | £21,945.00 | £505.00 |
| 2.0 TDI CR 140PS 6spd DSG DPF | 135 | £23,435.00 | 22% | £23,255.00 | £505.00 |
| 2.0 TDI CR 170PS 6spd DPF | 120 | £22,930.00 | 19% | £22,875.00 | £520.00 |
| 2.0 TDI CR 170PS 6spd DSG DPF | 139 | £24,365.00 | 22% | £24,185.00 | £520.00 |
| 2.0 TDI CR 170PS 4x4 6spd DSG DPF | 147 | £25,825.00 | 24% | £25,630.00 | - |
| Estate | | | | | |
| 1.8 TSI 160PS 6spd | 160 | £22,875.00 | 24% | £22,645.00 | £435.00 |
| 1.6 TDI CR 105PS 5spd DPF (GreenLine III) | 113 | £22,815.00 | 17% | £22,760.00 | £440.00 |
| 2.0 TDI CR 140PS 6spd DPF | 121 | £23,280.00 | 19% | £23,225.00 | £505.00 |
| 2.0 TDI CR 140PS 6spd DSG DPF | 137 | £24,715.00 | 22% | £24,535.00 | £505.00 |
| 2.0 TDI CR 170PS 6spd DPF | 122 | £24,210.00 | 19% | £24,155.00 | £520.00 |
| 2.0 TDI CR 170PS 6spd DSG DPF | 141 | £25,645.00 | 23% | £25,450.00 | £505.00 |
| 2.0 TDI CR 170PS 4x4 6spd DSG DPF | 149 | £27,105.00 | 24% | £26,910.00 | - |
| | | | | | |
| --- | --- | --- | --- | --- | --- |
| ELEGANCE | CO2 (g/km) | Recommended OTR price | BIK (2013/14) | P11D value | Difference v outgoing Superb |
| Hatch | | | | | |
| 1.8 TSI 160PS 7spd DSG | 162 | £25,615.00 | 24% | £25,385.00 | £615.00 |
| 3.6 V6 260PS 4x4 DSG | 215 | £30,510.00 | 35% | £29,835.00 | £835.00 |
| 1.6 TDI CR 105PS 5spd DPF (GreenLine III) | 109 | £23,860.00 | 16% | £23,805.00 | £510.00 |
| 2.0 TDI CR 140PS 6spd DPF | 119 | £24,710.00 | 18% | £24,655.00 | £685.00 |
| 2.0 TDI CR 140PS 6spd DSG DPF | 135 | £26,145.00 | 22% | £25,965.00 | £685.00 |
| 2.0 TDI CR 140PS 4x4 6spd DPF | 137 | £26,295.00 | 22% | £26,115.00 | - |
| 2.0 TDI CR 170PS 6spd DPF | 120 | £25,640.00 | 19% | £25,585.00 | £700.00 |
| 2.0 TDI CR 170PS 6spd DSG DPF | 139 | £27,075.00 | 22% | £26,895.00 | £700.00 |
| 2.0 TDI CR 170PS 4x4 6spd DSG DPF | 147 | £28,535.00 | 24% | £28,340.00 | - |
| Estate | | | | | |
| 1.8 TSI 160PS 7spd DSG | 164 | £26,895.00 | 24% | £26,665.00 | £615.00 |
| 3.6 V6 260PS 4x4 DSG | 217 | £31,790.00 | 35% | £31,115.00 | £835.00 |
| 1.6 TDI CR 105PS 5spd DPF (GreenLine III) | 113 | £25,245.00 | 17% | £25,190.00 | £615.00 |
| 2.0 TDI CR 140PS 6spd DPF | 121 | £25,990.00 | 19% | £25,935.00 | £685.00 |
| 2.0 TDI CR 140PS 6spd DSG DPF | 137 | £27,425.00 | 22% | £27,245.00 | £685.00 |
| 2.0 TDI CR 140PS 4x4 6spd DPF | 139 | £27,575.00 | 22% | £27,395.00 | - |
| 2.0 TDI CR 170PS 6spd DPF | 122 | £26,920.00 | 19% | £26,865.00 | £700.00 |
| 2.0 TDI CR 170PS 6spd DSG DPF | 141 | £28,355.00 | 23% | £28,160.00 | £685.00 |
| 2.0 TDI CR 170PS 4x4 6spd DSG DPF | 149 | £29,815.00 | 24% | £29,620.00 | - |
| | | | | | |
| --- | --- | --- | --- | --- | --- |
| LAURIN & KLEMENT | CO2 (g/km) | Recommended OTR price | BIK (2013/14) | P11D value | Difference v outgoing Superb |
| Hatch | | | | | |
| 3.6 V6 260PS 4x4 DSG | 215 | £32,500.00 | 35% | £31,825.00 | £595.00 |
| 2.0 TDI CR 140PS 6spd DPF | 119 | £26,700.00 | 18% | £26,645.00 | £445.00 |
| 2.0 TDI CR 140PS 6spd DSG DPF | 135 | £28,135.00 | 22% | £27,955.00 | £445.00 |
| 2.0 TDI CR 140PS 4x4 6spd DPF | 137 | £28,285.00 | 22% | £28,105.00 | - |
| 2.0 TDI CR 170PS 6spd DPF | 120 | £27,630.00 | 19% | £27,575.00 | £460.00 |
| 2.0 TDI CR 170PS 6spd DSG DPF | 139 | £29,065.00 | 22% | £28,885.00 | £460.00 |
| 2.0 TDI CR 170PS 4x4 6spd DSG DPF | 147 | £30,525.00 | 24% | £30,330.00 | - |
| | | | | | |
| --- | --- | --- | --- | --- | --- |
| LAURIN & KLEMENT | CO2 (g/km) | Recommended OTR price | BIK (2013/14) | P11D value | Difference v outgoing Superb |
| Estate | | | | | |
| 3.6 V6 260PS 4x4 DSG | 217 | £34,430.00 | 35% | £33,755.00 | £810.00 |
| 2.0 TDI CR 140PS 6spd DPF | 121 | £28,630.00 | 19% | £28,575.00 | £660.00 |
| 2.0 TDI CR 140PS 6spd DSG DPF | 137 | £30,065.00 | 22% | £29,885.00 | £660.00 |
| 2.0 TDI CR 140PS 4x4 6spd DPF | 139 | £30,215.00 | 22% | £30,035.00 | - |
| 2.0 TDI CR 170PS 6spd DPF | 122 | £29,560.00 | 19% | £29,505.00 | £675.00 |
| 2.0 TDI CR 170PS 6spd DSG DPF | 141 | £30,995.00 | 23% | £30,800.00 | £660.00 |
| 2.0 TDI 170PS 4X4 6spd DSG | 149 | £32,455.00 | 24% | £32,260.00 | - |
Superb standard equipment by trim level
S 12V socket in mid console and boot 16" 'Spectrum' alloys 3.5mm aux socket (for MP3 players etc) 4-spoke leather multi-function steeringwheel (inc controls for radio and telephone) 8 loudspeakers Air-conditioned glovebox Alarm with interior monitoring and with tilt sensor Black roof rails (estate only) Brake pad wear indicator Chrome front grille with new Skoda logo Cruise control Curtain airbags Daylight running lights Driver and  front passenger airbags Driver and passenger seat-belt warning light and buzzer Driver's knee airbag Electric front and rear windows with child safety system Electrically adjustable, heated, body coloured door mirrors (with integrated indicators) Electronic engine immobiliser Energy recovery (1.4 TSI, 1.8 TSI front-wheel-drive and diesel engines only) ESC incl ABS, MSR, ASR, EDS and HBA Front armrest Front fog lights ISOFIX (2 outer rear seats) Light assistant (coming home and tunnel light) Manual air conditioning Maxi-dot trip computer Passenger airbag de-activation switch Premium GSM III telephone preparation withBluetooth® Radio 'Swing' 2 DIN with single CD (can play MP3 recordings) Rear LED lights Remote central locking Removable LED light in the boot (estate only) Removable parcel shelf Side airbags front Split folding rear seats Stop/start engine system (1.4 TSI and Dieselengines only) Storage box under passenger seat Storage pockets on the rear of front seats Ticket holder on the A-pillar Tinted glass Twindoor' (hatch only) Ventilation outlets in B-pillar Glasses storage compartment Halogen projector headlights with DE module Height adjustable driver and passenger seats Gear change recommendation (manual only)
SE - over and above S
17" 'Trifid' alloys Acoustic rear parking sensors Alcantara upholstery (alcantara and artificial leather seat) Aluminium look inlays Auto-dimming rear view mirror Bolero radio - 2DIN touchscreen with integrated 6CD changer, SD card slot, aux-in socket (can play MP3 recordings) Chrome roof rails (estate only) Cornering front fog lights Dual-zone air-conditioning Electrically folding door mirrors (after locking of car) Height adjustable front armrest Hill hold control (1.8 TSI 160PS DSG only)
Elegance - over and above SE
18" 'Trinity' alloys Bi-xenon lights with AFS and LED daytime runninglights (adaptive front-light system) Chrome roof rails (estate only) 'Columbus' colour touchscreen navigation system withDAB radio Dynamic headlight-range adjustment (adaptive front-light system) Electrically adjustable front seats, driver's seat with memory (no storage box under passenger seat) Leather upholstery Rain sensor Electrically adjustable lumbar support in front seats Electrically adjustable, heated and folding door mirrors with memory function Heated front seats Heated front windscreen Hill hold control (1.8 TSI 160PS DSG and 3.6 V6 260PS 4x4 DSG only) Integrated headlight washers Tyre pressure monitor (TPM)
Laurin & Klement - over and above Elegance
10 speaker sound system 18" 'Sirius' bi-colour alloys Boot net Brown leather upholstery Chrome radiator grille Floor mats Heated rear seats L&K plaque on wheel arch Panoramic sunroof (estate only) Park assist (includes front and rear parking sensors) Piano black decorative inserts Sunset glass TV tuner Ventilated front seats
Source: Skoda