2013 Skoda Superb - Facelift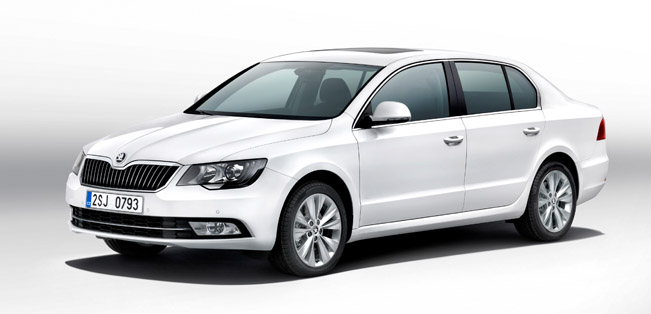 Skoda has announced the new 2013 Superb Facelift. The top model of the manufacturer is now even more attractive, as Skoda CEO Winfried Vahland commented.
The new Superb impresses with improved fuel economy and features new solutions in terms of technology. At the same time, the Superb confirms all the good values that have made this model line a success for 12 years now.
The exterior boasts a completely new front and rear end. We can see clear lines, precise quality and balanced proportions.
The grille, car logo, head and fog lights, bumpers, front wings and bonnet are new. Available for the first time in the Superb line-up are bi-xenon headlights with integrated LED daytime running lights.
The rear features LED stripes fitted as standard on all models. o triangular elements on the Hatch are another unmistakable feature of the new Skoda design.
The interior boasts new fabrics and patterns for the seat covers as well as new designs. The top-of-range Laurin & Klement has a new brown-ivory colour combination.
The engine range remains the same, but with more than 19 % fuel economy compared to their predecessors. This happens thanks to Start–stop and kinetic energy recuperation technology.
The safety includes ESP, ABS and Brake Assist as standard. The optional Adaptive Frontlight System (AFS) ensures excellent visibility in the dark.
The optional Hill Hold Control ensures a smooth uphill start without use of the handbrake. An electronic Tyre Pressure Monitor (TPM) is also fitted as standard on the Elegance and range-topping Laurin & Klement trim.
In case of an accident, passengers are protected by up to 9 airbags as well as 3-point seat belts and height-adjustable headrests.
Source: Skoda