2014 BMW i3 US - Full Details and Price $41,350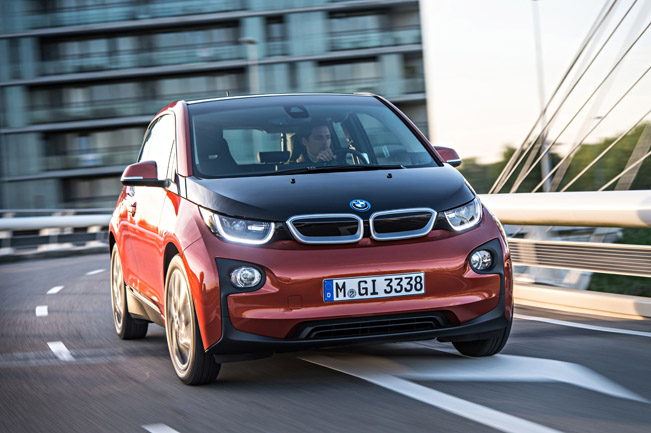 BMW US has announced the full details and pricing for the all-new 2014 i3 EV. It is like no other car the world has ever seen. It offers visionary design, a ground-breaking vehicle architecture, dynamic performance and innovative connectivity.
2014 BMW i3 US is expected to hit the market in the second quarter of the next year with pricing starting from $41,350 and $45,300 for the range-extender model. The prices are before any federal or state incentives, and before Destination & Handling fee.
The small city car boasts RWD and an electric motor producing 170HP (125 kW) and 250Nm (184 lb-ft) of torque. 0-50 km/h in 3.5 seconds and 0-100 km/h in just 7.2 seconds. The top speed is electronically limited to – 150 km/h (93 mph). Not bad performance for an all-electric vehicle. The range of the vehicle is 130 to 160 km (80 to 100 miles).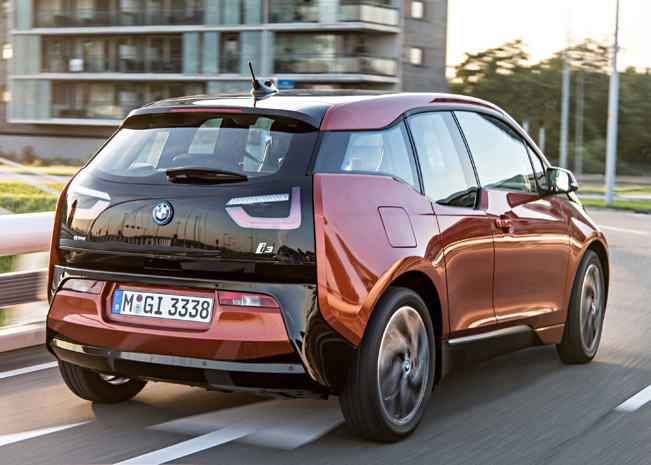 The dimensions of i3 Concept are 3845 mm in length, 1537 mm height and 2011 mm width. The wheelbase is just a bit smaller than 1-Series – 2570 mm. The kerb weight is just 1250 kg, so the vehicle will be easy to drive with good dynamics.
The BMW i3's tires are a unique 155/70/19 size on 19" light-alloy wheels, but the contact patch is the same of that of a more conventional 16" tire. To improve efficiency, they have low rolling resistance, and the narrow section width is a key factor in the BMW i3's super-tight turning radius.
Safety is a key criterion in the development of the BMW i models. A range of systems and measures have been implemented in the vehicle that ensure safety in normal operation and in the event of accidental fires. The high-voltage system is designed to cope with accidents beyond the legal requirements, with the high-voltage battery including features that ensure its safe reaction even in situations such as this.
The all-new BMW i3 will be featured at the Los Angeles International Auto Show in November, 2013 and will arrive at BMW i centers in the US beginning in the second quarter of 2014.
BMW i3 Quick-Reference Highlights:
Pricing (before federal or local incentives) starts at $41,350; $45,200 for Range Extender model. Destination & Handling Fee not included.
On Sale: Q2 of 2014 in the USA.
Preliminary Dimensions (subject to change for US models):

Length: 157.4"
Width: 69.9"
Height: 62.1"
Wheelbase: 101.2"
Turning Circle: 32.4 feet
Curb Weight (DIN) 2,635 lbs.  (2,899 lbs. for i3 with Range Extender)
BMW's 360 Electric electro mobility services:

Home Charging
Public Charging
Assistance Services
Flexible Mobility.
BMW Navigation is standard.
Driving:
170-hp, 184 lb-ft hybrid-synchronous electric motor with max. revs of 11,400 rpm.
80-100 mile real-world EV range.
22-kWh lithium-ion battery, which weighs 450 lbs.
650cc gasoline powered Range Extender optional; holds charge, doesn't power wheels.
0-30mph in 3.5 seconds, 0-60mph in approximately 7.2 seconds (preliminary).
Top speed of 93 mph, electronically limited to preserve efficiency.
BMW's signature, near-perfect 50-50 weight distribution.
Ultra-tight turning radius (32.3 ft), which is ideal for city driving.
Macpherson strut front and 5-link rear suspension set up.
Single Pedal Driving Concept with Brake Energy Regeneration, which feeds power back into battery.
3 drive modes: Comfort, ECO PRO and ECO PRO+.
3 hour 220 V @32 amps charging time.
Optional SAE DC Combo Fast Charging allows for 80% charge in 20mins; 100% in 30 mins.
Chassis and Body:
Purpose built construction. World's first mass-produced CFRP-constructed electric vehicle.
Built on innovative LifeDrive architecture composed of two parts: Life Module and Drive Module.
Life Module is essentially the cabin, constructed from Carbon Fiber Reinforced Plastic (CFRP).
Drive Module is where all of the powertrain components are housed.
Drive Module is made from 100% aluminum.
Magnesium cross-member for instrument panel saves 20% weight vs. steel.
BMW 1 Series external footprint with BMW 3 Series interior space.
LED headlights and taillights (standard in US market).
Weighs in at roughly 2,700 lbs.
No space-consuming transmission tunnel dividing car's interior.
Pillar-less design with rear coach doors allow for easy entry and exit to rear seats.
Driver-oriented super-ergonomic controls.
Three vehicle Worlds (trim levels): Mega (standard in US), Giga, and Tera.
Standard 19-inch light alloy wheels with unique 155/70 all-season tires. 20-inch light alloy wheels optional.
No transmission tunnel and low console allows for Slide-through Experience, which benefits urban driving by the ability to exit from the passenger side.
Sustainability:
Made with sustainable, renewable materials.

Instrument panel surround and door trim use fibers from Kenaf plant.
Carbon fiber reinforced plastic (CFRP) roof panel is made partially with recycled CFRP from manufacturing process of other components
25% of plastic used in interior comprised of recycled materials.
Dashboard wood trim crafted from responsibly-forested eucalyptus.
CFRP components are sustainably produced in Moses Lake, WA, USA, where the factory uses hydroelectric power.
The Leipzig, Germany assembly plant uses wind-generated electricity.
Olive-leaf extract is used to tan interior leather surfaces.
Source: BMW