2014 BMW S 1000 R - 160HP and 112Nm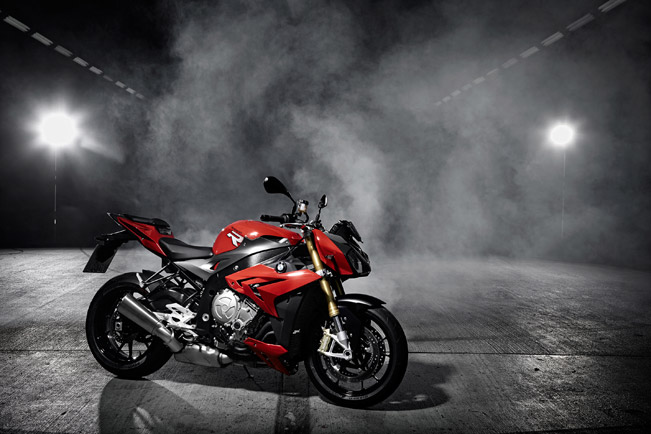 BMW has announced the new 2014 S 1000 R, which is directly derived from the S 1000 RR superbike and uses the same innovative technology. The simplified appearance of the new S 1000 R exudes an aggressive, dynamic energy.
The engine is a 1.0 liter (999 cc) four-cylinder with 160HP (118 kW) at 11,000 RPM and 112Nm (83 lb-ft) at 9,250 RPM. It provides punchy low-end response that is ideal on twisty single-lane roads. Among other things, this was achieved by using redesigned cylinder head ducts, modified cam profiles and appropriately modified engine management. The new BMS-X engine management system also supports an E-Gas "throttle-by-wire" system.
The S 1000 R comes with two riding modes and ASC (Automatic Stability Control) as standard. The "Rain" and "Road" modes cater to different road surface conditions using different power and torque curves, and applying different levels of Race ABS and ASC intervention. This provides an important safety bonus, particularly under variable road conditions.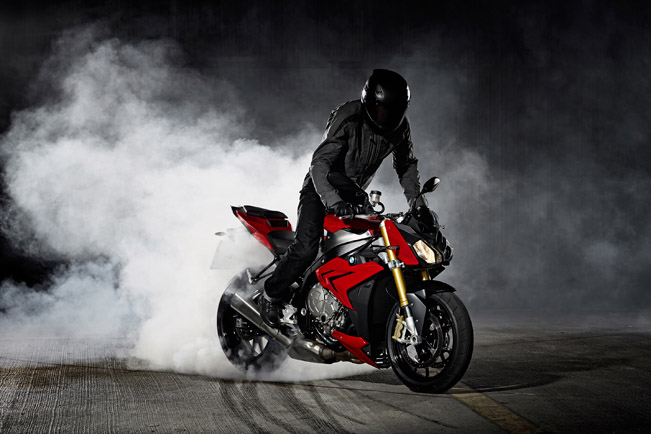 Dynamic Traction Control (DTC), incorporating two additional riding modes – "Dynamic" and "Dynamic Pro" – is available as a factory option. This option allows riders to make the most of the S 1000 R's sporty performance potential both on the road and on the race track. Dynamic Traction Control, which includes a lean angle sensor, offers safe and dynamic acceleration which is currently state-of-the-art for a production motorcycle.
The new S 1000 R's sports roadster personality is also mirrored in the styling. With its "tail up – nose down" stance, the S 1000 R's appearance immediately suggests aggressive performance and dynamism. Like the RR, the S 1000 R, too, is distinctive and instantly recognizable. It has a face that stands out in a crowd.
Race-inspired features also extend to the cockpit of the S 1000 R. With an LC display with analog tachometer, the instrumentation offers an unrivalled amount of information in this segment, from the gear display and riding mode display to a lap timer. For optimal gear changes, an individually programmable shift indicator light is installed.
Options:
•          Sports package with Dynamic Traction Control (DTC), Riding mode Pro ("Dynamic", "Dynamic Pro"), gear shift assistant and cruise control.
•          Dynamic package with Dynamic Damping Control (DDC), heated grips and small engine spoiler in matching bike color.
Accessories:
Safety/performance.
•          DTC and Riding mode Pro.
•          Cruise control.
•          Engine crash pads.
•          Axle sliders.
•          Anti-theft alarm system.
Storage.
•          Tank Bag.
•          Rear Tailbag.
Design.
•          HP Carbon tank cover left/right.
•          HP Carbon airbox cover.
•          HP Carbon front mudguard.
•          HP Carbon rear mudguard.
•          HP Carbon chain guard.
•          Tail cover.
•          Engine spoiler.
•          HP Race Cover Kit.
Sound.
•          HP full titanium exhaust system 4.5 kg (9.9 lbs) lighter than the standard system.
•          Akrapović sports silencer.
Ergonomics and comfort.
•          HP Race footrest plate.
•          HP Race rider footrest system.
•          HP pillion footrests.
•          HP gear shift assistant.
•          HP folding clutch lever.
•          HP folding handbrake lever.
•          Sport windscreen.
•          Rider's comfort seat.
•          Pillion seat with enhanced comfort.
•          Heated grips.
Navigation and Communication.
•          BMW Motorrad Navigator.
•          Navigator cradle, cable and mounting kit.
Maintenance and technology.
•          HP lap timer.
•          HP Race data logger.
•          HP forged wheels.
•          Sport work stand.
•          Swingarm adapter for Sport work stand.
•          Motorcycle cover.
•          HP tire warmers.
•          HP brake remote adjustment.
•          HP Race pit-stop carpet.
Rider's accessories.
•          Sport suit.
•          Sport boots.
•          2 in 1 gloves
Source: BMW