2014 FPV GT-F - Price $77,990 AUD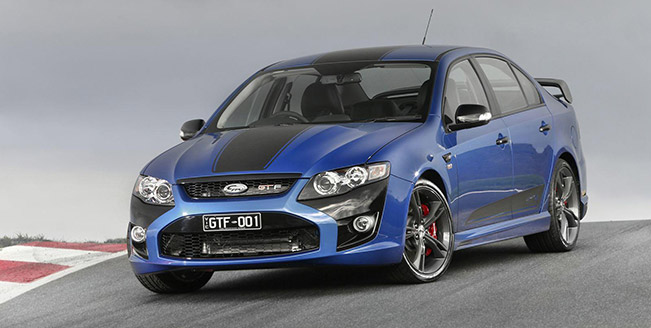 FPV (Ford Performance Vehicles) has finally revealed the extremely powerful limited edition GT-F. Only 550 units will be produced (500 for Australia and 50 for New Zealand) and the pricing is starting from $77,990 AUD.
2014 FPV GT-F is powered by a 5.0 liter supercharged V8 with 477HP (351 kW) and 570Nm (420 lb-ft) of torque. There is also a GT RSPEC's suspension and a set of 19" alloy wheels fitted with 275/35 R19 Dunlop Sport Maxx tires.
"Our goal was to create the best vehicle we could; a vehicle that pays respect to Ford GTs of old yet celebrates all that is good about Ford's performance credentials.", commented FPV Chief Program Engineer, Peter de Leur.
The exterior of the GT-F boasts a unique bonnet, black panel extensions, roof and rear deck lid. Exposed too was the model's distinctive 'stealth' exterior striping package, together with gloss black accents on the 'raccoon eyes', grilles, appliques, door handles, mirrors and rear diffuser, ensuring that the GT F is unlike anything that has come before it.
GT orange detailing is another feature, which used on the model's unique 351 badging, instrument dial faces, seat stitching and embroidery, build number and manual transmission plaquette and the ICC start-up screen.
2014 FPV GT-F is available in five colors and every owner will be able to purchase a tailored car cover in dark grey and with model logo and stripe print.
Source: FPV