Ford Performance Vehicle Concept
Ford will exhibit FPV GT Concept at the 2011 Australian International Motor Show in Melbourne. The sinister all-black GT-based FPV concept features a number of bespoke features and design solutions not seen before.
"Taking our iconic FPV GT, we have put together a package of performance and design enhancements to demonstrate what could be done by FPV in the future,", said Rod Barrett, Ford Performance Vehicles General Manager.
"The black-on-black treatment looks spectacular and it really changes the look of the car, so I'll be very interested to hear what FPV enthusiasts think.", he added.
The car is powered by the Boss 5.0 liter V8 with 455PS (335 kW) and a hefty 570Nm (420 lb-ft) of torque. No further technical data is revealed, but you have to expect RWD with LSD and manual gearbox, hopefully.
The FPV stands on enormous 8J x 19" rims at the front and 9.5J x 19" at the rear fitted with Dunlop SP Sportmaxx GT tires. The brakes are decent, too – 6-piston up front and 4-piston for the rear wheels.
The interior boasts black leather trim throughout and an all-black dash treatment that includes the interior command centre (ICC).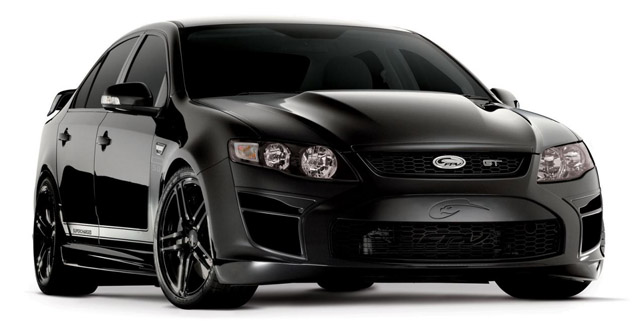 Source: Ford