2013 Kia K9 Luxury Saloon equipped with V6 engine
2013 Kia K9 Luxury Saloon has just been released for sale and it is in fact introducing an entirely new segment of the global automotive market. It has a rear-wheel drive and more importantly its power come from V6 engine mated to eight speed transmissions.
K9's overall length is 5,090 mm and the wheelbase is 3,045 mm. This basically means that the model is delivers generous front and rear occupant space. In addition, the overall width and height are 1,900 mm and 1,490 mm, respectively. Consequently, this only can mean that there is more than enough space in the cabin.
2013 Kia K9 will be powered by an upgraded 290 ps (213 hp) Lambda V6 3.8-litre MPI engine, or with a 334 ps (246 kW) 3.8-litre GDI engine. Either of the engines are mated to an eight speed automatic transmission.
Of course the all new saloon is all about luxury and includes some advanced luxury features and technologies, such as: fully adaptive all-LED headlamps, Lane Departure Warning System (LDWS), radar-based Blind-Spot Detection (BSD), a 17-speaker Lexicon (by Harman) sound system, Smart Cruise Control (SCC) and an Around-View Monitor (AVM) with four cameras.
All in all Kia K9 is all about elegant simplicity, harmony and balance in terms of appearance and technologies. The car can be also a synonym of confidant stance and athletic proportions thank to the premium large rear-wheel drive.
Obviously with this model Kia aims to compete some of the most popular European brands.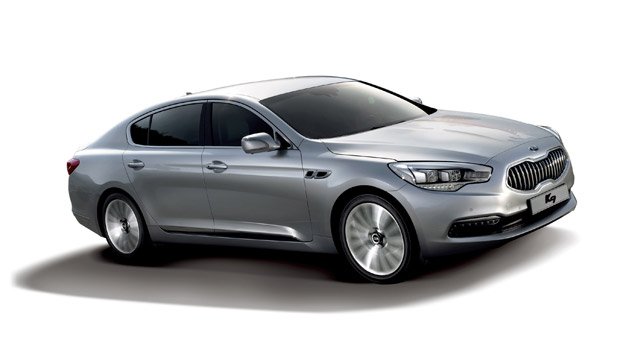 Source: Kia