2016 Camaro Models Come With Outstanding Performance

2016 Camaro comes with even lower overall weight and more power. The superior vehicle now weights with more than 177 kg lesser and the redesigned drivetrain system offers outstanding performance.
Chevrolet's team tests now show that the 455 hp (336 kW) Camaro SS Coupe engine, working in perfect harmony with the all-new eight-speed paddle-shift automatic gearbox, manages to get the vehicle from 0 to 100 km/h (62 mph) for only 4.0 seconds and covers the quarter-mile challenge in 12.3 seconds.
SEE ALSO: GeigerCars.de Created The Most Powerful Chevy Corvette Z06 Ever!
Furthermore, the Gen Six Camaro Coupe offers 275 hp (205 kW), provided via 2.0-liter Turbo unit that completes the 0-100 km/h (62 mph) sprint in 5.4 seconds. And goes through the quarter-mile run for 14.0-seconds. Yep, this one is also impressive.

And along with the 18-inch wheels and Goodyear Eagle Sport all-season tires, the 2.0-liter Turbo grants drivers with 0.85g in cornering grip and 100-0 km/h (62 mph) in 129 feet. Furthermore, the RS pack that includes 20-inch wheels and Goodyear Eagle F1 Asymmetric all-season run-flat tires, the 3.6-liter V6 unit comes with 0.89 g and 62-0 mph braking in 124 feet.
| | | | | |
| --- | --- | --- | --- | --- |
| 2016 Camaro Coupe: | 0-60 mph (sec.) | Quarter-Mile (sec. @ mph) | Grip (max. lateral) | 60-0 mph braking (feet) |
| 2.0L turbo w/18-in. tires | 5.4 (man.) 5.5 (auto.) | 14.0 @ 100 (man.) 14.0 @ 99 (auto.) | 0.85 g | 129 |
| 3.6L V-6 w/20-in. RF3 tires | 5.2 (man.) 5.1 (auto.) | 13.7 @ 102 (man.) 13.5 @ 103 (auto.) | 0.89 g | 124 |
| 6.2L V-8 w/20-in. RF4 tires | 4.3 (man.) 4.0 (auto.) | 12.5 @ 115 (man.) 12.3 @ 116 (auto.) | 0.97 g | 117 |
In fact, much of Camaro's performance can be attributed to design team's focus on reducing vehicle's weight and improving stiffness. And now it looks like the invested 9-million hours of computational time are enough to make a difference in vehicle's overall performance. The computer-aided engineering led to a modular architecture program for each model. This all means that the base curb weight for the 2016 Camaro is 167 kg lighter than its predecessor. And the 1SS models is 101 lighter, but at the same time offers more horsepower and 14% improvement in the power-to-weight-ratio
| | | | |
| --- | --- | --- | --- |
| | 2.0L Turbo | 3.6L V-6 | 6.2L V-8 |
| 2016 Camaro | 275 hp / 295 lb-ft 3,339 lbs (auto) 12.1 lbs/hp | 335 hp / 284 lb-ft 3,435 lbs (auto) 10.3 lbs/hp | 455 hp / 455 lb-ft 3,685 lbs (man) 8.1 lbs/hp |
| 2015 Camaro | N/A | 323 hp / 278 lb-ft 3,729 lbs (auto) 11.5 lbs/hp | 426 hp / 420 lb-ft 3908 (man) 9.2 lbs/hp |
| Change | 390 pounds lighter than 2015 V-6 | 294 pounds lighter 12% lbs/hp improvement | 223 pounds lighter 14% lbs/hp improvement |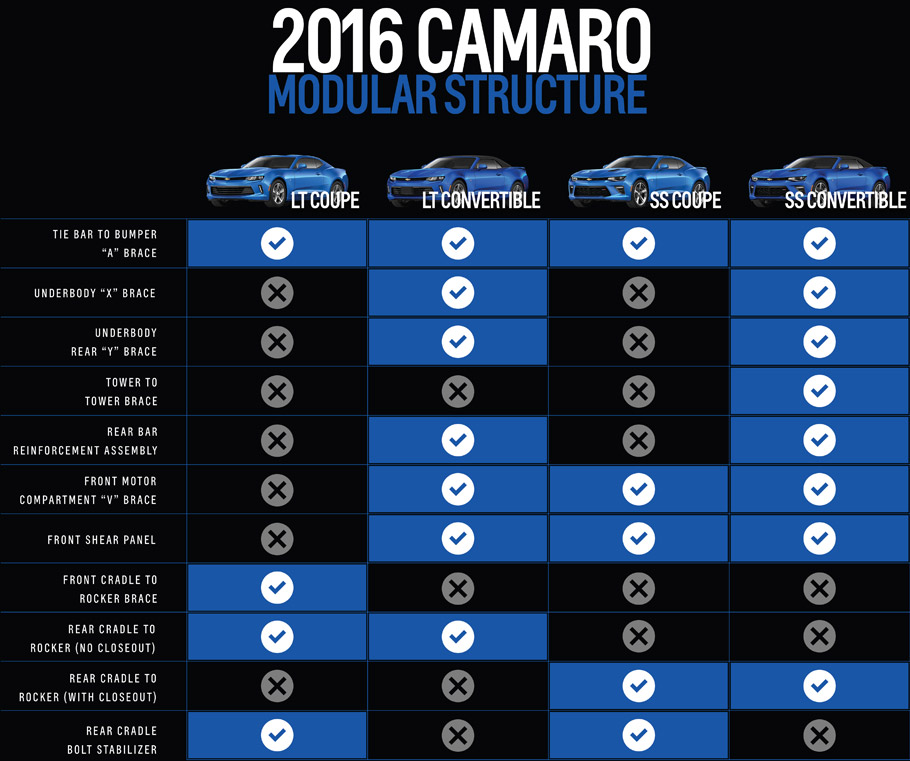 2016 Camaro goes on sale this fall with startin price of $26,695
Source: Chevrolet