AC Schnitzer Mini RS6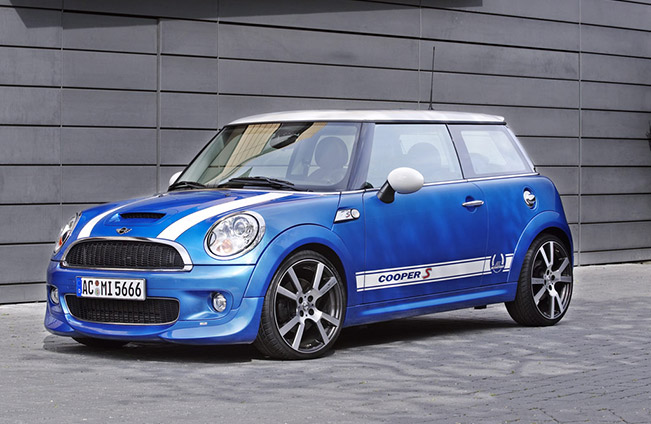 Retro but not old-fashioned – sassy and practical – authentic but no copy: Few cars have mastered the balancing act as well as the new MINI, the latest generation of which is now in the showrooms. In design terms it remains true to its predecessor, but doesn't stop there technically. In detail no MINI looks like the next, because individuality takes priority amongst its owners.
Anyone wanting to stand out from the crowd of MINI owners, not just in appearance but also in performance, should turn to AC Schnitzer. The present focus of the tuner's development activities is the new 170 HP turbo engine in the Cooper S, for which AC Schnitzer develops a performance upgrade. And when the driver puts the power down, the sound track plays loud and clear, thanks to the sonorous twin sports silencer with chromed Racing tailpipe.
Full gas to the next corner – and through it at full speed! Touring Car legend Manfred Wollgarten set up the AC Schnitzer racing suspension on the North Loop of the Nürburgring - and it runs rings round the already very good standard suspension. You can feel the difference just with the AC Schnitzer suspension spring kit. But back from the track to the city: Out of the reflective glass facades flashes the face of a model athlete. AC Schnitzer achieves this masterpiece with a few tricks. The front bumper has a new front spoiler.
Painted in body colour, and with its striking prominent corners, it sets a clear visual highlight. The sassy rear has also been subtly lifted. The rear skirt from AC Schnitzer, painted in contrast to standard, has a diffuser which effectively pulls the MINI down to the tarmac.
Two sporting wheel designs, the brand-new Bicolor wheel Mi2 in 7.5 x18" and the Mi1 in the classic AC Schnitzer look in 7.5 x 17", complete the sporting range. And naturally the enthusiastic MINI fan has a wealth of matching accessories for the interior.
Such as the attractive controls and sports pedals of aluminium – naturally from AC Schnitzer.