AC Schnitzer Raptor MINI John Cooper Works Coupe
A John Cooper Works MINI Coupe is sufficiently fast enough, right? Of course it is – 211 hp, 280 Nm of peak torque and a 6.4 second run to the 60 mile an hour mark. But apparently, one such MINI recently did a lap on the Hockenheim Race Circuit with a time of 1:13.0 on slick tires. The event was a 2012 "Tuner Grand Prix" and was hosted by the "sport auto" magazine. That's pretty impressive, but AC Schnitzer believe, the Coupe can do better than that (it is after all a "tuner" prix).
That is when they brought out their concept AC Schnitzer Raptor John Cooper Works MINI and did the same circuit in 1:10.87 on sports tires. Obviously, some extensive work was needed on top of the base. Two key concepts have been used into the making of the Raptor – power and lightness.
The engine management system has been remapped with an AC Schnitzer Motronic unit, a Schnitzer turbo and interccooler sysem has also been put to work. There's a limited slip differential and a sports clutch which connects a special "Short Shift" racing transmission to the drive train. The final pinch of power is added thanks to the new stainless steel exhaust system that employs a racing catalyst. The end result is a 1 second drop on the 0 to 60 mph run (5.4). The power is now up to 300 hp which stampede over your head at 5000 rpm and the peak torque stands at 340 Nm.
A 100 kg diet has been imposed on the MINI - A carbon hood, doors and trunklid keep the weight down (so does the exclusive ion battery) while carbon sports wings and a carbon diffuser provide much downforce without an extra toll on the overall mass. A somewhat more stable body structure is achieved through additional antiroll bars and through a lower center of gravity thanks to the lowering suspension. On it's axles, the Raptor MINI has the fairly wide AC Schnitzer 7.5J x 18" Mi2 BiColor wheels fitted with 225/35 ZR 18 tires.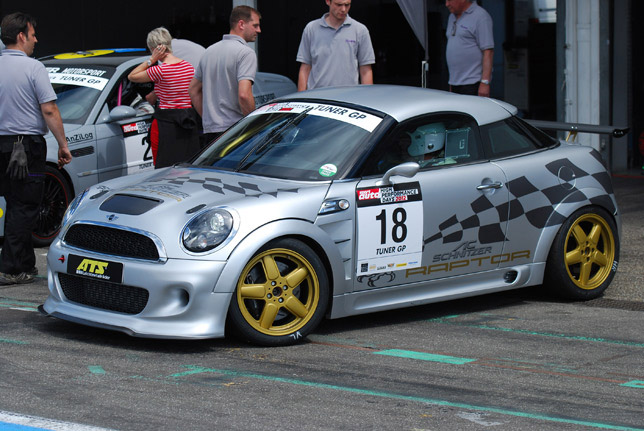 Inside, one would not find the exact definition of luxury but you do get a roll-cage and carbon fiber buckets seats – comfy. Also the foot rest and pedal are all aluminum.
And that pretty much sums up the AC Schnitzer John Cooper Works MINI Coupe Raptor concept which has the sole purpose to dominate the track... and your someone's wallet - it's estimated value is around 62,000 Euros.
Source: AC Schnitzer