Alfa Romeo 4C To Debut In Geneva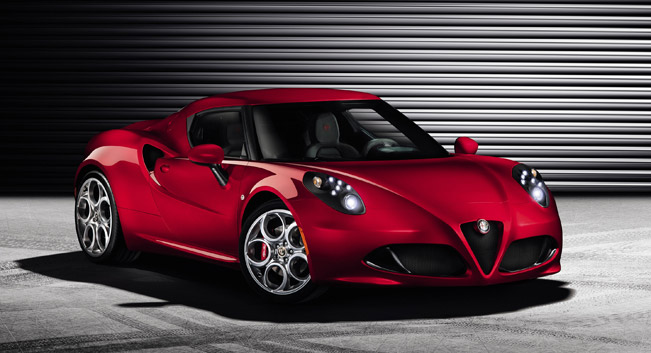 Alfa Romeo 4C will make an official debut at this year's Geneva Motor Show showing-off its assets and positive qualitative. It is a mid-engined rear-wheel drive coupé with two bucket seats which means that it truly represents a sports car.
Of course, it will deliver to the lucky customers great performance in Italian style and technical excellence. Alfa Romeo 4C was initially introduced as a concept back in 2011 in Geneva
As a matter of fact, the "4C" acronym draws its inspiration from the brand's glorious past: it refers to Alfa Romeo's great sporting tradition: the acronyms 8C and 6C in the 1930s and 1940s distinguished cars – both racing and road – fitted with the powerful "eight cylinders" and the innovative "six cylinders".
In the current Alfa Romeo 4C are utilized technologies and materials derived from super sports cars: carbon fibre, aluminium, rear-wheel drive, as well as updated technologies from the latest standard models from Alfa Romeo.
The new 1750 Turbo Petrol all-aluminium engine with direct injection, the sophisticated Alfa TCT twin dry clutch transmission and the Alfa DNA selector with the unprecedented Race mode are pure instance for this.
In terms of design, the 4C follows the concept model and exudes compact size, dynamism and agility. On the other hand the interior is full of essential materials contributing for maximum driving satisfaction. What immediately stands out is the carbon fibre used to make the central cell.
Due to its compact dimensions, the 4C has 2 bucket seats. In details, the model is just under 4 metres long, 200 cm wide, 118 cm high and has a wheelbase of less than 2.4 metres. But not only the dimensions emphasise the compact size of the car but also accentuate its agility.
Furthermore, the car is equipped with four cylinder 1750 Turbo Petrol engine. The latter includes an innovative aluminium block and specific intake and exhaust systems which have been enhanced in order to improve the sports appeal of the car.
Additionally, the unit includes cutting-edge technical solutions including direct fuel injection, dual continuous variable valve timing, a turbocharger and a revolutionary scavenging control system.
The engine is mated to an Alfa TCT automatic twin dry clutch transmission, which is a genuine benchmark in its segment due to its low weight and extreme speed of activation. The gears can also be changed in sequential mode with the help of the shift paddles located behind the steering wheel.
What's more, an innovation introduced here is the new Alfa DNA selector which not only includes three standard settings- Dynamic, Natural and All Weather – but also a fourth one: Race, which enhances the driving experience.
Source: Alfa Romeo