Andretti Rallycross Volkswagen Beetle GRC Delivers 544 Horsepower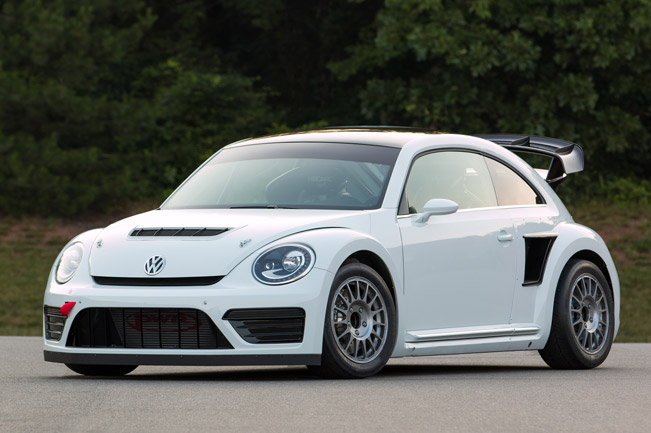 Andretti Rallycross Volkswagen Beetle GRC is an eye-catching addition to the Global Rallycross series and more importantly it delivers the astonishing 544 horsepower. The car was revealed by Volkswagen's Andretti Rallycross team and it will race later this year at the Red Bull Global Rallycross championship. It will be driven by Tanner Foust and Scott Speed. In fact, the team enters the third round of the season, and has already achieved two victories for Scott Speed driving the No. 7 7UP Volkswagen Polo.
To be more precise, this Beetle is powered by a 1.6-liter four-cylinder TSI turbocharged and intercooled engine, which makes the 544 horsepower (440 kW). This means that this Volkswagen will be very competitive. The Rockstar Energy Drink Beetle with the No. 34, boasts a unique appearance and includes state-of-the-art technology.
This rallycross car is a pure expression of the third-generation Beetle. It is designed and engineered from the outset as a GRC car and includes a sequential six-speed transmission, with a fixed-ratio all-wheel-drive system. The latter features multiplate limited-slip differentials both at the front and rear.
This Beetle utilizes all-around strut-type suspension, with ZF dampers and needs 9.1 inches of travel to cope with the rigors of the off-road portion. It also comes equipped with 14.0-inch diameter front and 11.8-inch rear vented disc brakes, four-piston aluminum calipers, and runs on 17-inch wheels shod with 240/640-R17 Yokohama competition tires.
An outsize rear wing, widebody fenders, and aggressive front fascia is what defines the No. 34. The rallycross car has an overall length of 168.8 inches, and a width of 71.7 inches. It weighs 2668 pounds which mean that it perfectly complies with the series regulations. This combination of reduced weight, high horsepower, and all-wheel-drive traction, promises that we will see the Beetle GRC sprinting from 0 to 60 mph in an incredibly quick 2.1 seconds. Or just, this is what Volkswagen promises.
Source: Volkswagen