Astounding Frozen Experience: Bentley Continental GT3-R to Perform on Ice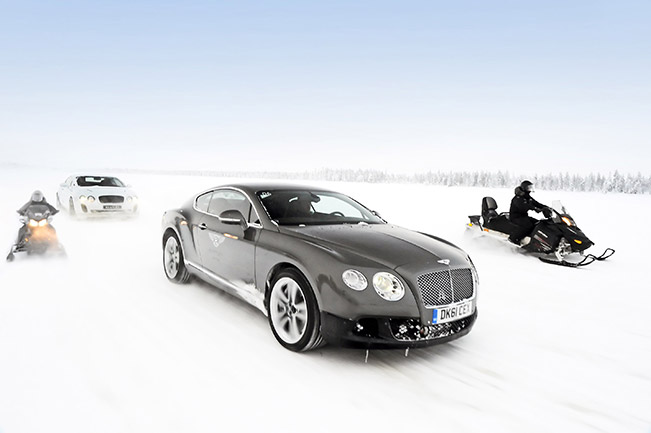 Power on Ice driving event organized by The Bentley Motors brings the driving performance of Bentley to a totally new level. Lasting for four days, this is one of a kind opportunity to owners, enthusiasts, fans and aspiring Bentley drivers which gives them a chance to experience and test the qualities of the brand in one of the most severe natural driving conditions – on an icy surface.
Returning to the cold north of Finland for the Power on Ice 2015 show, this year Bentley will push to the limits no other than the monstrous Continental GT3-R. It is time for the car to heat up its engine and make its breath-freezing debut on the frozen ground!
Yet, this is neither just an event not a simple ordinary occasion to observe car performances. It is art. And it is cool. Figuratively and literally speaking. The full comprehension of the beauty of this art called ice-driving is only achieved through substantial years of experience. For this reason, every single ice track is created by Juha Kankkunen in a manner that carries individual characteristics and significances that are distinguished from one another. This way, the four-time World Rally Champion and ultimate Bentley Boy Kankkunen carves tracks into the thick frozen ground by using a professional equipment. The result is that of pure uniqueness which is able to impress and engage even returning customers.
All of this is a Bentley experience that blends in adventure, excitement and performance-focused magnificence. The driving challenge is overcome without any difficulty by a range of Continental GTs. The all-wheel drive systems constantly adapt the levels of power to the front rear wheels and despite the imperfect icy ground, there is an optimal grip that is delivered. Inside the GT3-R features heated seats and luxurious hand-crafted trimmed leather interior for ultimate comfort.
Hosted in a typical Bentley stylish mannerism and attitude, the home of the event is the boutique hotel of Chalet Ruka Peak.
Source: Bentley