Audi Dominated the 2016 Rolex 24-Hours at Daytona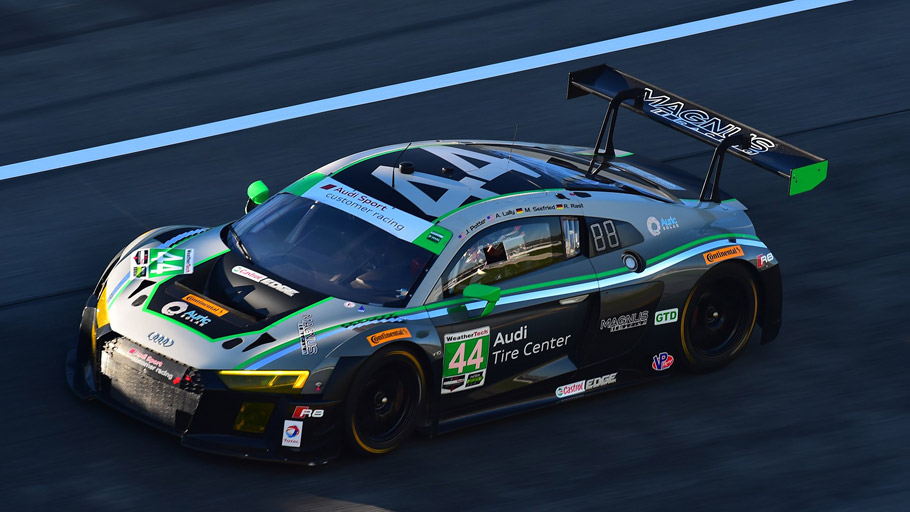 Audi R8 LMS #44 Magnus Racing won the 24-hour classic with stunning finish. In one of the closest finishes in endurance racing, driver John Potter and racers Andy Lally, Marco Seefried and Audi factory driver, Rene Rast, took the checkered flag after a harsh battle with all the 703 laps and with only a 3.048 seconds lead ahead of the second car! And yes, this is the final result: Audi R8 LMS that shares almost half of its parts with the 2017 Audi R8 production vehicle won in its US racing debut.
Indeed, this was one of the most exciting and competitive races that kick off the IMSA 2016 season where Rene Rast drove the final stint, which required limiting fuel consumption in order to stick to team's strategy that eventually turned to be the most successful one in the whole event.
#9 Stevenson Motorsports Audi R8 LMS made its path from last place to 8th, backed by its trustworthy teammates. #6 sister vehicle held the lead, but eventually finished 14th in the twenty-two car GTD category. Furthermore, #45 Flying Lizard Motorsports/Krohn Racing race car encountered some technical issues which led to retire after 20 hours and 513 laps of pure racing experience.
The next passionate and fast-paced race will be at Sebring International Raceway on March, 19th, 2016.
SEE ALSO: 2017 Audi R8 is Priced at $162,900 USD [w/video]
And for all the Audi lovers out there: The special R8 LMS will go on sale this Spring.

Stay with us for further details!
Source: Audi