Audi R8 GRAND-AM
Audi Sport has announced the new R8 GRAND-AM, which is based on R8 LMS that has scored more than 110 victories and 13 titles. Essentially, from the GT3 race car quattro GmbH has developed a vehicle for the Grand Touring class of the GRAND-AM Rolex Sports Car Series in the USA and subjected it to final testing at Daytona.
There were two test days, when Frank Stippler completed around 1000 km with Audi R8 GRAND-AM. The famous Daytona International Speedway in the U.S. state of Florida with its banked turns served to prepare for the Daytona 24 Hours at which private racing customers will compete with the R8 GRAND AM on January 28th and 29th, next year.
Still ,the newly developed car is a lot different than the GT3 model. The downforce is a lot lower due to the GRAND-AM regulations, which prescribe modified body components. For example, the new front splitter may only protrude from the front contours by 38 mm. Besides that, the front underbody must have a flat design and the rear diffusor corresponds to the production car component, while the standardised rear wing is only 152 cm wide and thus 260 mm slimmer than the rear wing of the R8 LMS.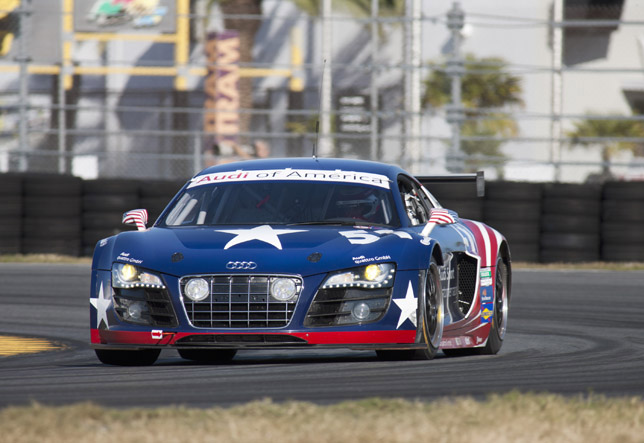 "The lower aerodynamic forces also require modified damper characteristics and softer spring rates," said  Armin Plietsch, Head of Engineering Customer Sport at quattro GmbH.
In addition, the regulations prescribe a ride height of 65 mm - which is about 10 mm more than the minimum in the FIA series.
The tires should be from the series' exclusive supplier, Continental and the ABS and traction control, which are standard equipment on the Audi R8 LMS, had to be deactivated for the R8 GRAND-AM.
The optimised radiator package that Audi developed for the R8 LMS ultra is also used in the R8 GRAND-AM.
"We successfully tested all the modifications at Daytona," commented Romolo Liebchen, Head of Customer Sport at quattro GmbH.
"With Frank Stippler we developed a sound and solid set-up for our customers and also gathered valuable findings in the endurance tests. The durability of wearing parts and runs at high outside temperatures meet challenging demands. We can now provide our racing customers with concrete advice and reference values for fielding the car.", he finished.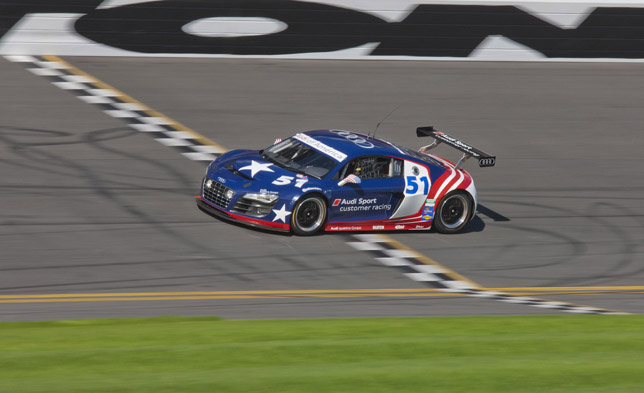 Source: Audi