B&B Audi A7 3.0 BiTDI Sport - 390 PS and 760 Nm
After the performance packages for the mighty 3.0 TFSI engine in the A7, B&B are ready with some power ups for the super economical 3.0 BiTDI diesel.
The Audi A7 3.0 BiTDI originally produces 313PS and 650Nm, but just with an ECU re-map and slight increase in boost pressure of 0.15 bar, the power is 340PS and 690Nm. The price for Stage I is not low - €1498.
Stage II is priced at €1698 and adds 52PS and 70Nm (overall 365PS and 720Nm), while with some more upgrades like special injection elements, work on intake paths, air ducts and intercooler lead to Stage III – 390PS and 760Nm - €4950.
Furthermore, you can optimize the suspension with a set of sports springs for €398 reducing the ride height by 30 mm. There is also an adjustable coilover suspension - €1498. For Audi A7 models with air suspension is an electronically lowering by 30 mm for €1298.
The B&B sport exhaust system made ​​of solid stainless steel greatly improves the sound (€ 998) and also causes an additional power increase of about 5PS.
For the increased performance corresponding delay, B&B provides a special 6-piston high performance brake system for € 5 995. It gives the Audi A7 drivers always a comforting feeling of superior security.
Exclusive wheels in 19" / 20" / 21" complete the exterior of the sport-Audi.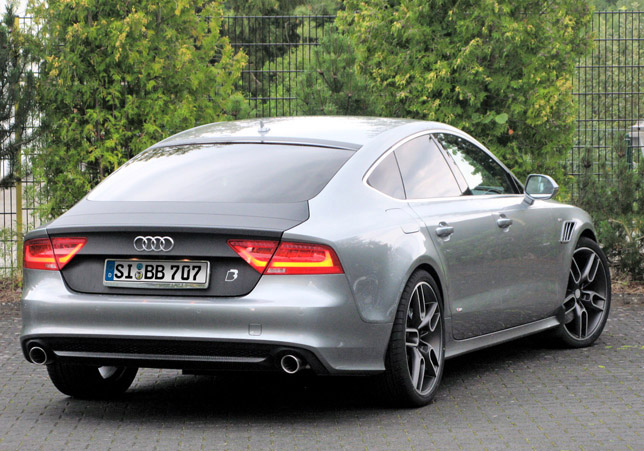 Source: B&B