B&B Automobiltechnik Beef Up the Volkswagen Polo R WRC Street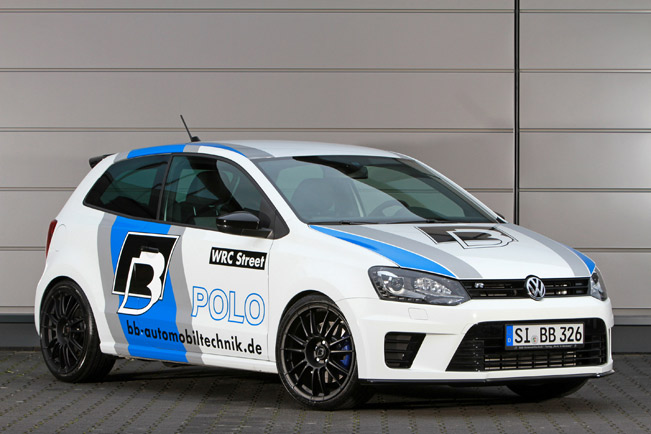 The Volkswagen Polo R WRC Street is, and there is no other way to put it, a rally car that can do grocery runs. It is truly an exceptional specimen that is limited to only 2500 units worldwide. The one you see here, however, is different from its brothers and sisters. B&B Automobiltechnik have taken up the job of creating something mad from an already mad thing.
Take its 2.0 TSI engine for example. It normally develops 220 hp which is already well above sensible (for an FWD car). The guys at B&B can buff that output up to 362, depending on which stage you want to draw the line. The first stage is a package of performance tweaks that includes ECU modifications and optimization of the air guides and suction paths. That's how you get 310 hp and 450 Nm of torque. Stage two adds to that a larger front exhaust pipe and the charging air's pressure gets increased by 0.25 bar – 326 hp and 457 Nm. To get to 362 hp and 510 Nm, stage three consists of a high-pressure fuel pump, a high-performance charging air cooler and a special oil-cooling system.
The suspension, on the other hand, can be treated with a height, compression and rebound-adjustable B&B coilover kit that's supposed to be perfectly in tune with the VW Polo R WRC; and a set of 20/30 millimeter springs. Cough up a little bit more money and you can get the optional B&B front and rear axle stabilizers.
The final touches on the Polo R concern the exterior – an aerodynamic package brings the Street closer to its prototype, namely the Volkswagen Polo R WRC rally car. Oh, and don't forget the wheels. We are talking 8x18 inch alloys with tires of 225/35R16 all around. Delicious.
Source: B&B Automobiltechnik