B&B VW Tiguan – compact SUV up to 300hp/420Nm

The Siegen based VW / Audi specialist B&B offers an extensive tuning program up to 300hp for the VW Tiguan equipped with the powerful 2.0 TFSI engine.
This offered tuning program consisting of 4 different stages starts with level 1 by an adjustment of electronic characteristics to the increased loading pressure. This first level reaches performance values of 240hp and 340Nm to the price of EUR 998,- . In stage 2 and 3 the car reaches 250hp and 286hp. By mounting special air pipes as well as a special intercooler in the final stage, B&B reaches performance values of 300hp and 420Nm. To reduce exhaust counter-pressure, the technicians mount a special sport exhaust system which is perfectly harmonizing with the special pre exhaust pipe as well as a high grade sport catalyst. To reach perfect performance values B&B reprograms the electronical controle device of the 2.0TFSI`s engine. A slim-line oilcooler allows optimal oil temperatures for this "hot" engine.
Performance stages for the new 2.0tdi common-rail engines of the VW Tiguan are also available. The original performance levels of 140hp / 320Nm and 170hp / 350Nm can be increased up to 174hp / 390Nm and 200hp / 400Nm in the first stage. The second stage reaches performance values of 200hp / 410Nm and 220hp / 420Nm.
The "smallest" VW Tiguan engine, the 1.4tsi with its 150hp / 240Nm reaches in the third and also final stage 220hp / 330Nm. The prices start at EUR 998,-.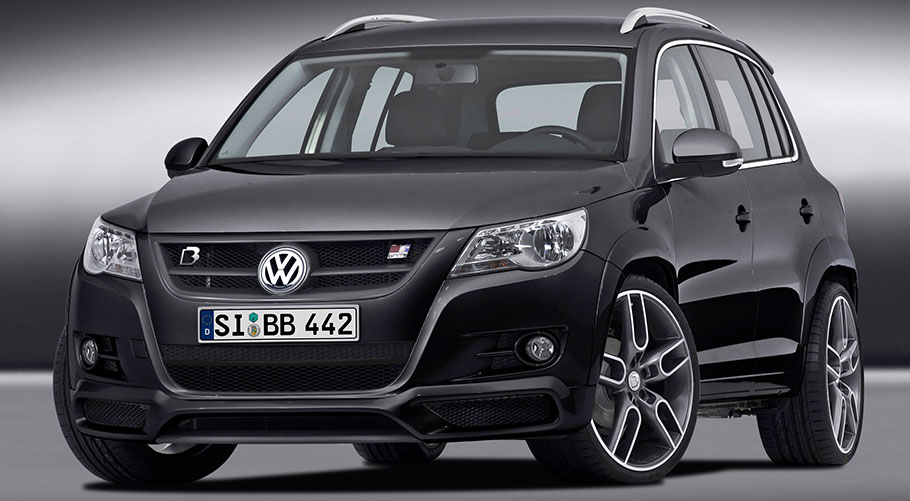 To lower the cars height and allow more stable driving behaviour different chassis parts can be ordered. Deliverable tuning parts are sport springs which allow lowering of the car's height up to 40mm, as well as adjustable thread chassis in various versions.
A special and impressive outer appearance of the VW Tiguan can be achieved by mounting exclusive wheel sets in 18" 19" and 20" as well as the multi-pieced aerodynamic bodykit.