BBR Launces Upgrade and Tweak Packages For Mazda3

Mazda performance specialists at BBR are proud to demonstrate the two stages of powerplant upgrades for the 2.0-liter Skyactiv-G versions for the Mazda 3.
The result of almost a year of experiments and in-house testing, demonstrated that the 2.0-Skyactiv-G tuning program has successfully removed the vital electronic and mechanical restrictions on 120, 145 and 165 hp (88, 106 and 121 kW) versions for Mazda 3 /6, CX-3 and CX-5. This all means that the Mazda engineering team unleashed the full force of the latest direct-injection powerplant. So, let's see what the results are.
BBR Super 170
The entry level upgrade comes with BBR's special Starchip ECU software which contributes for fuel and ignition calibration. This all means that the overall performance benefits in numerous ways, only one of which is the restriction from the 120 hp (88 kW).
The gains from the 2.0-liter Skyactive-G are now mostly noticeable from 4,000 rpm upwards for nicely beneficial 136 hp on BBR's chassis dyno which culminates in a peak output of 169 hp (124 kW) at 6,300 rpm. Cool, right?
BBR Super 185
With this upgrade BBR goes for even more performance upgrades. Designed to optimize the exhaust technology, incorporated in the 2.0-liter Skyactiv-G motor, BBR's tweaks feature a 4-2-1 configuration to enhance the flexibility and dynamics of the engine and its maximum torque levels.
And now the revised engine, along with BBR's Starchip ECU calibration the peak power increases to 185 hp at 6,300 rpm. In addition the 2.0-liter Skyactic-G 's torque levels rise with a total of 173 lb.ft at 4,000 rpm and over 150 lb. ft between 3,000 and 6,500rpm.
BBR Mazda 3 Dynamic upgrades
BBR has also launched a portfolio of upgrades for the 2014 onwards Mazda3 2.0-liter Skyactive-G lineup. Sourced from top quality suppliers and delivering additional driving pleasure, BBR showed numerous details for Sport lowering springs and full geometry setup.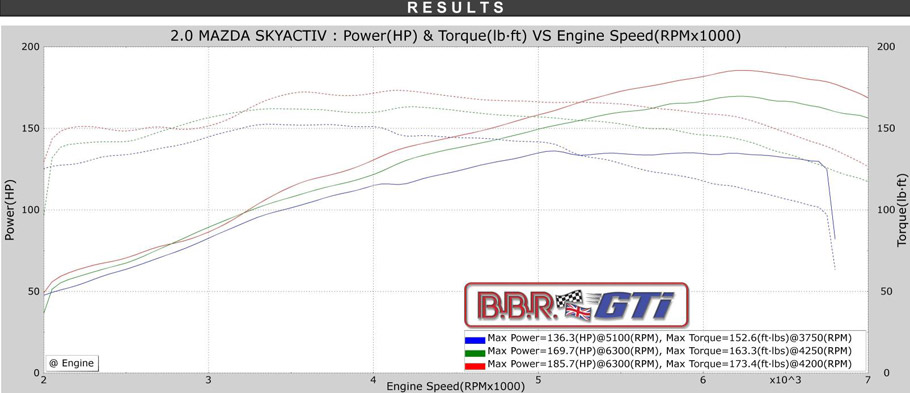 Source: Mazda