BMW 5 Series F10 first crash test
BMW 5 Series F10 passes first crash test using brake intervention system. The test have been made at the facility of the Deutscher Kraftfahrzeug-Überwachungs-Verein (DEKRA) in Neumünster near Hamburg.
The most common crashes on motorway are made because of this situation: The end of a tailback suddenly appears behind a motorway bend. In such case, a rear-end collision is imminent. Around 40 percent of all accidents happened, because of this situation.
BMW 5 Series is already equipped with anticipatory assistance systems that help reduce the risk of such accidents. The car features Active Cruise Control – an optional rear-end collision warning system incorporating a braking function that activates an alarm scenario in two stages.
If there is a potential collision with the vehicle in front, the driver is first given a preliminary warning by means of an illuminated red vehicle symbol on the instrument panel and on the Head-up Display. While this is done, the braking system is pre-filled and the minimum triggering level of the hydraulic brake assistant lowered, so an emergency brake pressure is built up faster when the driver applies the brakes, therefore significantly reducing the stopping distance.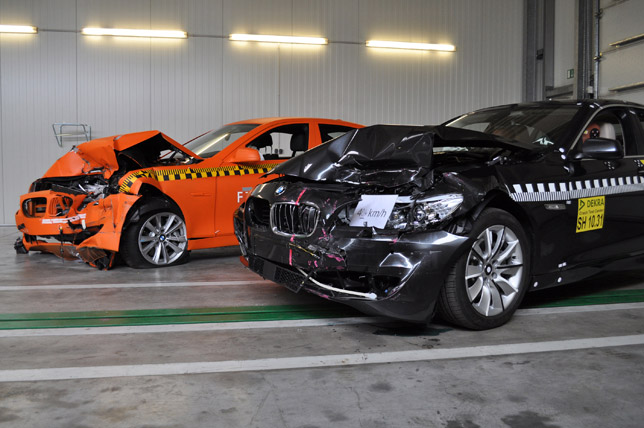 In emergency cases - the car brakes for 1.2 seconds with reduced deceleration, whereby speed is already reduced before the driver can apply the pre-tensioned brakes.
The Active Cruise Control system (ACC Stop &Go) has a radar sensor in front of the car, which delivers information needed to detect when a collision can no longer be avoided by the driver's reaction. In such case, an automatically activated emergency brake application function ensures that collision speed is, nevertheless, significantly reduced.
The EuroNCAP test includes the car approaching an offset obstacle at 64 km/h, a so-called offset crash, the vehicle used in the DEKRA test incorporating advanced brake intervention likewise initially accelerated to 64 km/h. However, immediately before impact the BMW 530d braked hard – as stipulated by the system – and collided with the offset block at a reduced speed of just 40 km/h.