BMW 8-Series E31 - The Great Eight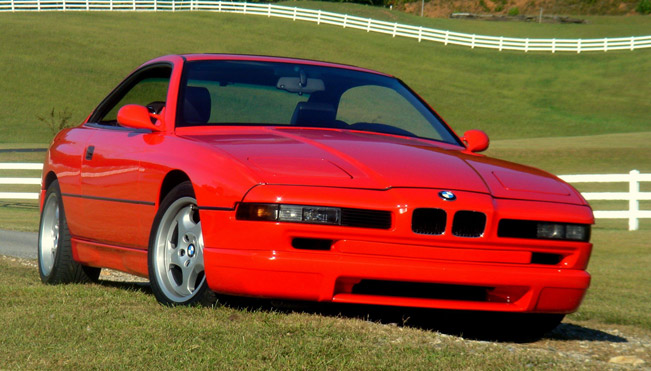 BMW has published an awesome video celebrating the 8-Series (E31), which was produced from 1989 to 1999. Originally, the E31 was designed as a "Ferrari-Killer" and in its top version (850CSi), it is really fast and extreme.
This was the company's flagship coupe and the first production car with Cd (drag-coefficient) less than 0.30. Other innovations include a "pillar-less" design and the first BMW equipped with DSC (dynamic stability control). Totally 30,603 units were produced, so obviously the 8-Series wasn't so successful model.
The engine range includes а 4.0 liter V8 (M60B40) – 286HP (210 kW) and 400Nm (300 lb-ft) in 840i (1992-1996). It was replaced by a 4.4 liter V8 (M62B44) – 286HP (210 kW) and 420Nm (310 lb-ft) in 840Ci (1995-1999). The powerful 5.0 liter V12 (M70B50) was mounted in 850i (1989-1994) – 299HP (220 kW) and 450Nm (330 lb-ft). It had also an updated version – 5.4 liter V12 (M73B54) in 850Ci (1994-1999) – 326HP (240 kW) and 490Nm (360 lb-ft). Last, but not least is the 5.6 liter V12 (S70B56) in 850CSi – 381HP (280 kW) and 550Nm (410 lb-ft) of torque. All models can easily go to 250 km/h (155 mph), but with delimiter the 850CSi can reach over 300 km/h (186 mph).
The 840i and 840Ci were equipped with a 5-speed automatic gearbox or a 6-speed manual. The 850i and 850Ci had either a 4-speed automatic or a 6-speed manual gearbox, a 5-speed automatic was fitted from 1994. The 850CSi comes only with a 6-speed manual gearbox.
The 8-Series wasn't the fastest on the most beautiful car in the world, but it is certainly a sensational vehicle!
Enjoy the video!
Source: BMW