BMW ePatrol Concept Takes Part in Los Angeles Design Challenge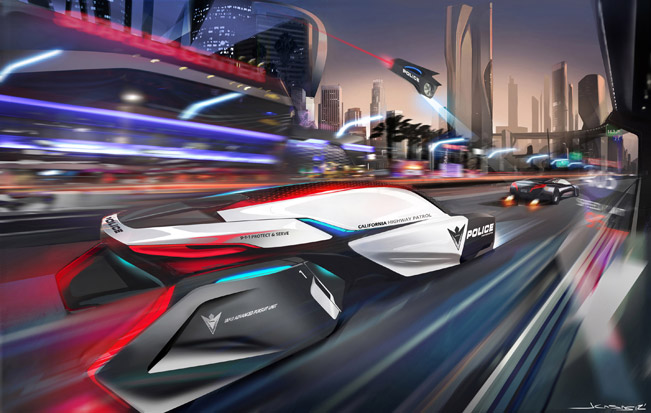 Another very exciting concept for the L.A. Autoshow just appeared, but this time from the powerful German brand BMW. For the creative competition they had to create the ultimate 2025 highway patrol vehicle, which is the BMW ePatrol Concept. The vehicle gives a glimpse into the forceful power of innovation and future thinking.
The futuristic patrol cars should be created on the following set of criteria: future needs for advanced technology; speed and agility on future freeway systems; creativity of the solution; and meeting a specific region's emission standards and environmental sensibility (including maintenance and recyclability).
Initially the work of the designers began through the envisioning a 2025 scenario. There will definitely be more traffic, faster vehicles, and vehicles with alternative drive trains. In addition, the design team was inspired by the partnership between a patrol officer and their canine. The clogged highways today and in the future brought the attention on a solution to increase accessibility.
In short, the BMW ePatrol Concept focuses on a modular structure and drone technology that improve both teamwork and accessibility. The main structure can deploy three drones. Firstly, the top drone is positioned above the main structure and is a flying drone. The other two are one wheel vehicles attached to the rear.
In the case of a pursuit, the patrol officer sitting in the two passenger main structure can use either the flying drone or one of the single wheel drones to chase the suspect and report back data to the main structure.
There is an option when all three drones are being utilized. Then, the main structure can continue to function. Furthermore, all drones have added protection thus sending an impulse to another vehicle and disabling it.
The exterior design of the BMW is also impressive. The designers achieved powerful stance with an aerodynamic aesthetic and flowing lines. On the other hand, the interior design was inspired by a woven structure made of aluminum wire inside carbon fibre and polymer resin.
Moreover, it is visible that the seats create a significant connection between driver and architecture. Next, the interfaces within the interior are touch screen and in order to bring about enhanced protection to the patrol officers, windows are not included in the vehicle.
At last, instead of windshield there is a large screen which can communicate crucial information like accidents or route information, and the large screen in the interior serves as a monitor on which data from the drones can be displayed.
Source: BMW