BMW has just revealed the incredibly beautiful 3.0 CSL Hommage Concept at the Concorso d'Eleganza Villa d'Este meeting. As we told you already, the car is tribute to the historic BMW Coupé, famous in the 70s and its name, CSL, stands for "Coupé Sport Leichtbau". The latter word is German and means lightweight, and there is a huge reason for that.
Lightweight Body
The design team has centered on the idea of less weight. This is the reason why the car features aluminium bonnet, boot and wings, Plexiglas windows and only essential equipment. This puts off around 200 kg from car's sibling model, the BMW 3.0 CS. In addition, carbon-fiber has been used thoroughly inside and out.
Exterior
Athletic and powerful, the BMW 3.0 CSL Hommage is defined by distinctiveness. The body has been elongated, stands on powerful wheel arches and features significantly big spoilers on the roof and tail.
SEE ALSO: BMW Creates a Car-Tribute To a Timeless Legend!
At the front, there is a front air, which vents the engine compartment. On the other hand, the wings over the rear wheels are what maximize the airflow. The characteristic for the company kidney grille here is somewhat different. It has been elongated, while its kidney struts give the front end an air of quality and exclusivity. Laser light and LED technology as well as the flat contours of the headlamps define the unique look of the car.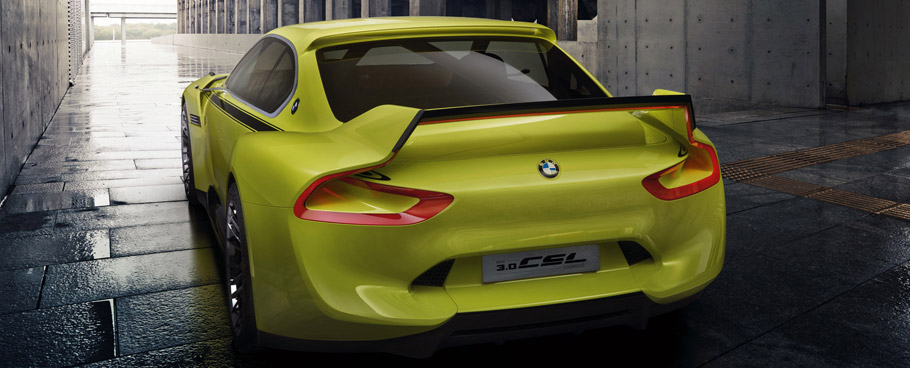 Instead rear-view mirrors, there are rear-view cameras, which also help in terms of aerodynamics. The stretched silhouette is characterized by low stance, wide wheel arches and dark CFRP areas narrow the gap between the sides and the road. The black graphic accents, the dark lightweight elements additionally highlight the silhouette. The car rides on black or matt and high-gloss bi-colour 21-inch alloys, while the air control blades serve to optimize aerodynamics. Two systems, the Air Curtain and Air Breather, ensure that there is optimum ventilation of the wheel housings.
At the back, the huge spoiler optimizes the downforce on the driven rear axle, thus enhancing power transmission. The styling of the rear lights is unique. There is a LED strip above the spoiler that links the two lights. At last, the unique exterior color, Golf Yellow, contributes for the perfect stance CSL Hommage.
Interior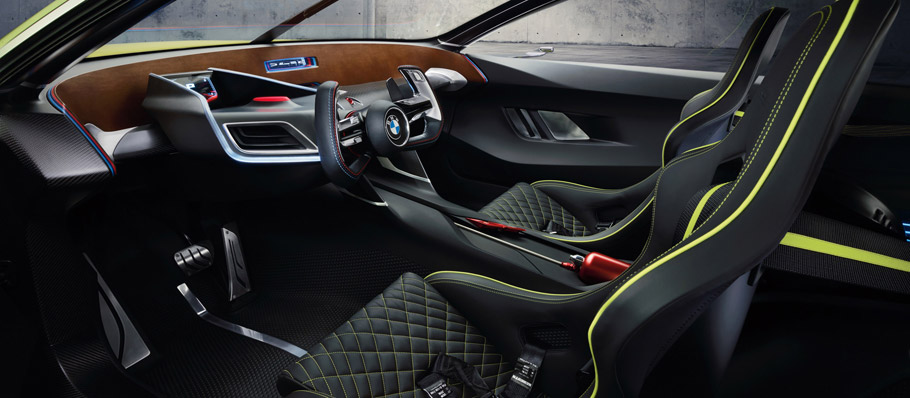 The interior of the vehicle features only the most important equipment because of the lightweight design approach. Almost everything inside is made from carbon fiber. However, the only wood-like presence is the instrument panel, which is a reference to the interior of the earlier BMW 3.0 CSL.
The small central eBoost charging display is positioned in the middle of the wooden instrument panel. The infotainment is very small and it finds itself on the central display on the steering column. Other cool features inside include the black Alcantara bucket seats highlighted by contrasting stitching, the six-point belt and red anodised safety features.
World Debut
Here is a video of the official premiere of the car, which shows it in details. Although there aren't any official details on the engine, the video shows it. Take a look:
Video Source: YouTube
Source: BMW