BMW X5 M and X6 M: The Ultimate Pleasure of Driving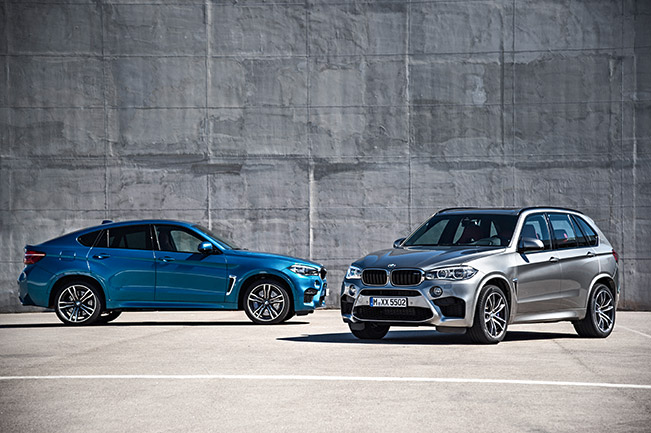 The second-generation BMW X5 M and X6 M have finally made their arrival for the speed-obsessed and crossover lovers. The X5 M and X6 M have been reborn. This time with more power, more torque, more style and better driving experience all of which make this pair of darlings some of the most wanted vehicles worldwide.
While the new models retain their 4.4-liter, when compared to the 2009 models, the new Ms bring enhancements of up to 10 per cent in terms of power, torque and performance while, in fact, they have lowered fuel consumption and CO2 emissions by over 20 per cent. To cast some light on those raw statistics, the power of the BMW new models has been sufficiently increased from 555 horsepower to 567 horseSUPERpower (423 kW). Staying true to their twin-turbocharged V8 engines, both of the cars are powered by a bran-new 4.4-litre M TwinPower Turbo V8 engine with two TwinScroll turbochargers. The combination of power and torque outputs (750 Nm) outline this engine as the most powerful and efficient one ever created by BMW for four-wheel-drive cars. Finally, BMW X5 M and X6 M fire up from 0 to 62 mph in 4.2 seconds at a tops speed of 155 mph.
Of course, it is not just the statistics above which make BMW's M cars so distinctive. There are cardinal aesthetic updates interiorly and exteriorly in order to suit and complete the high-performance behavior of those machines. X5 M and X6 M combine sportiness with luxurious style. The sporty exterior design of the new models is function-oriented. The eye-catching looks of the cars is complimented by the flared wheel arches, standard 21-inch M wheels, four large air intakes in the front fascia and, perhaps, the best  twin-stalk exterior door mirrors that can be seen on a production car.
The interior is highlighted by new over-large steering wheel which is completed with aluminum paddle shifters. The design of the seats is deliberately more aggressive which works in perfect harmony with, again, the sporty nature of the BMW's new beauties.
The BMW X5 M and X6 M will be available from 11 April, 2015, and will be priced at £90,170 and £93,070. Both models will hit the US market next spring - $99,650 for the X5 M and $103,050 for the X6 M.
 Source: BMW