British Steam Car Set To Shine In States
The British team behind 'Inspiration' - the vehicle that will next month make an assault on the world land speed record for a steam-powered car - recently called on the skills of car care experts Autoglym as part of final preparations before the car is shipped to the USA for its record attempt. The Autoglym team was tasked with reducing surface drag and enhancing the appearance of the already stunning-looking car with a coat of its super-durable High Definition Wax.
At Edwards Air Force in the Mojave Desert, California, the team will attempt to break the 145mph US national record (set in 1985) and the FIA record of 127mph which has stood for 103 years. The Inspiration team hopes to hit 170mph, and every effort has been made to optimise aerodynamic performance and reduce drag. Autoglym's High Definition Wax was applied to Inspiration's metallic British Racing Green paintwork to provide a smooth, ultra-glossy surface that will help the car to cut through the air with minimal resistance.
Team Inspiration is also taking a selection of Autoglym products to California to keep the car super-slippery and looking good for post-attempt photography.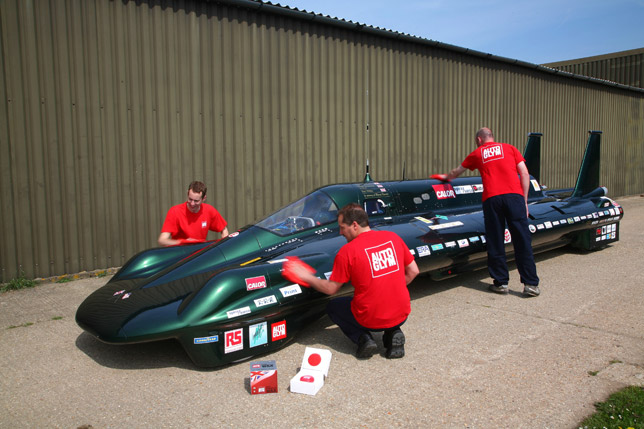 "The car looks fabulous and will stay looking great thanks to the application of High Definition Wax," commented David Rogers, Autoglym Sales and Marketing Director. "We are immensely proud of our British roots and our strong motorsport links. Inspiration is a real testament to British engineering, and we wish the team all the best for its record attempt."
Inspiration is not the first land speed record challenger that Autoglym has been involved with. The company also polished the world record-breaking 'Thrust 2' and 'Thrust SSC' cars and has a long history of involvement in top-tier motorsport and performance motoring. Autoglym prepared the McLaren F1 supercar when it broke the record for the world's fastest production car and it has long-standing affiliations with premium performance marques, such as Aston Martin and Bentley. This involvement at the pinnacle of the motor industry has ensured that the company remains the UK's leading car care brand.