Bugatti Veyron vs Nissan GT-R EkuTec [video]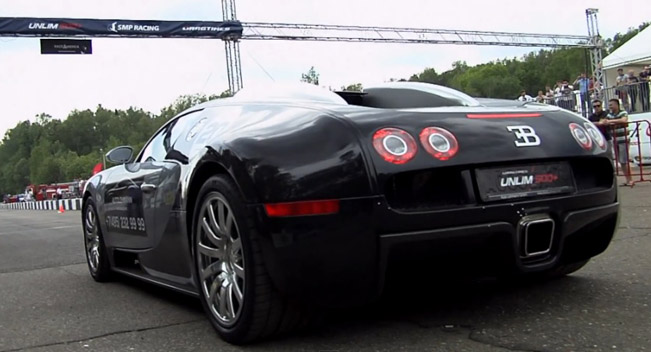 Dragtimesinfo has published an interesting video with slightly tuned Nissan GT-R Ekutek Stage 2 with 700HP going against the powerful Bugatti Veyron with 1001HP.
Although the GT-R has 300HP less and a lot worse aerodynamics, it is not too much slower than the Veyron.  The tuned GT-R did ¼ mile in 11.922 seconds with 204.89 km/h, while the Veyron needed 11.285 seconds with 211.33 km/h. The 1 mile times were 28.788 seconds with 291.26 km/h and 28.341 seconds with 254.59 km/h, respectively.
Notice that the Veyron hit the brakes hard before the car crossed the finish line. Obviously the Veyron is not the right vehicle for drag racing, but it is pretty fast!
Enjoy!
Source: Dragtimesinfo via Youtube