Nissan Skyline GT-R R34 900HP vs. Bugatti Veyron 1001HP
The reaction time in drag racing is almost as important as the power of your car, because you may have less horsepower than you opponent and still win. However, in this case, the reaction time doesn't matter and the more powerful car is a winner with few thousandths of a second.
The epic battle is between Bugatti Veyron and highly tuned Nissan Skyline GT-R R34. The run is on one mile and as you can see in the video, the GT-R R34 is in front all the time, because of the superb reaction time and the better ¼ mile time. The power-to-weight ratio is extremely important, when the race is at ¼ mile (402.33 m)and much less, when it is on a full mile (1.609 km).
Bugatti Veyron stops the clock at 10.523 at ¼ mile with 223 km/h and 26.122 at one mile with 328 km/h, while the Skyline GT-R R34 achieved 10.426 at ¼ mile with 216 km/h and 26.154 at one mile with 311 km/h.
Bugatti Veyron is powered by a 8.0 liter quad-turbocharged sixteen-cylinder engine delivering 1001PS (736 kW) and 1250Nm (922 lb-ft) of torque.
The original Nissan Skyline GT-R R34 is powered by a 2.6 L twin-turbo inline-six with 332PS (244 kW) and 392 Nm (289 lb-ft).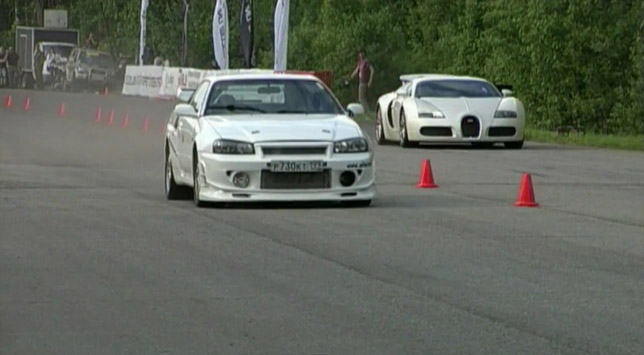 Source: Dragtimesinfo via Youtube