Cadillac Twin-Turbo V6 in 2014 CTS Sedan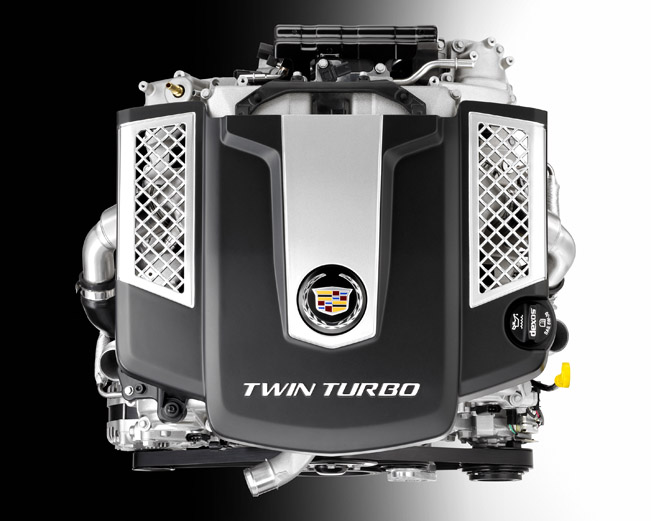 Cadillac has released full details of a new Twin-Turbo V6 coupled with an 8-speed gearbox. The powertrain will be introduced with the all-new 2014 Cadillac CTS midsize luxury sedan debuting next week at the New York Auto Show.
The Cadillac Twin-Turbo V6 is the most power-dense six-cylinder engine in the midsize luxury segment – a 3.6L with 118 horsepower per liter (88 kW/liter).
"The new Cadillac Twin-Turbo brings a new dimension of technologically advanced performance to the all-new 2014 Cadillac CTS sedan," commented David Leone, executive chief engineer.
"Delivering power and sophistication, it marks another large step forward in the product-driven expansion of Cadillac.", he added.
The power is 420HP (313 kW) and 583 (430 lb-ft) ot torque at 2,500RPM. The engine has 15 % greater power density than BMW 535i's turbocharged 3.0 liter twin-turbocharged engine. However, we need to mention that BMW has introduced this engine many years ago, when General Motors didn't have slightest idea, how to create super power-dense engines.
The new CTS will accelerate to 60 mph (96 km/h) in 4.6 seconds  and has a top speed of 274 km/h (170 mph).
The new Cadillac Twin-Turbo will expand the performance envelope of the upcoming 2014 CTS midsize luxury sedan, launching this fall in the United States. The engine will also will be offered in the 2014 XTS large luxury sedan this fall.
The new engine is a comprehensive upgrade on the 60-degree, 3.6L DOHC V-6 offered in today's SRX, XTS and ATS. However, almost every component is unique. New features include:
All-new cylinder block casting
All-new cylinder head castings
Strengthened connecting rods
Machined, domed aluminum pistons with top steel ring carrier for greater strength
10.2:1 compression ratio
Patented, integrated charge air cooler system with low-volume air ducts
Two turbochargers produce more than 12 pounds of boost (80 kPa)
Vacuum-actuated wastegates with electronic control valves
All-new direct injection fuel system
Tuned air inlet and outlet resonators, aluminum cam covers and other features that contribute to exceptional quietness and smoothness.
The 2014 CTS sedan will also feature the naturally aspirated 3.6L V-6 rated at 321 horsepower, as well as a 2.0L turbocharged engine rated at an estimated 272 horsepower.
2014 Cadillac CTS Powertrain Preliminary Specifications
Engines
2.0L Turbo DI VVT
3.6L V-6 DI VVT
3.6L V-6 Twin-Turbo DI VVT
Displacement (cu in / cc):
122 / 1998
217 / 3564
217 / 3564
Bore & stroke (in / mm):
3.39 x 3.39 / 86 x 86
3.70 x 3.37 / 94 x 85.6
3.70 x 3.37 / 94 x 85.6
Block material:
cast aluminum
cast aluminum
cast aluminum
Cylinder head material:
cast aluminum
cast aluminum
cast aluminum
Valvetrain:
DOHC, four-valves per cylinder, continuously variable valve timing
DOHC, four valves per cylinder, continuously variable valve timing
DOHC, four valves per cylinder, continuously variable valve timing
Fuel delivery:
direct high-pressure fuel injection
direct high-pressure fuel injection
direct high-pressure fuel injection
Compression ratio:
9.5:1
11.5:1
10.2:1
Horsepower (hp / kW @ rpm):
272 / 203 @ 5500 (est.)
321 / 239 @ 6800*

(gas)

420 / 313 @ 5750 (SAE-certified)
Torque (lb-ft / Nm @ rpm):
295 / 400 @ 1700-5500 (est.)
275 / 373 @ 4800* (gas)
430 / 583 @ 3500-4500 (SAE-certified)
Recommended fuel:
premium recommended but not required
regular unleaded or E85
premium required
Maximum engine speed (rpm):
7000
7200
6500
GM-estimated economy (city / hwy):
19 / 30 RWD

18 / 28 AWD

19 / 28 RWD

18 / 27 AWD

17 / 25
Transmissions
| | | |
| --- | --- | --- |
| Type: | Paddle-shift six-speed, electronically controlled, automatic overdrive with torque converter clutch | Paddle-shift eight-speed, electronically controlled automatic overdrive with torque converter clutch |
| Gear ratios (:1): | | |
| First: | 4.06 | 4.60 |
| Second: | 2.37 | 2.72 |
| Third: | 1.55 | 1.86 |
| Fourth: | 1.16 | 1.46 |
| Fifth: | 0.85 | 1.23 |
| Sixth: | 0.67 | 1.00 |
| Seventh: | -- | 0.82 |
| Eighth: | -- | 0.69 |
| Reverse: | 3.20 | 4.06 |
| Final drive ratio: | 3.45 (RWD) 3.27 (AWD) | 2.85 |
Source: Cadillac