Callaway Corvette Z06 and a Tale of 757 Horsepower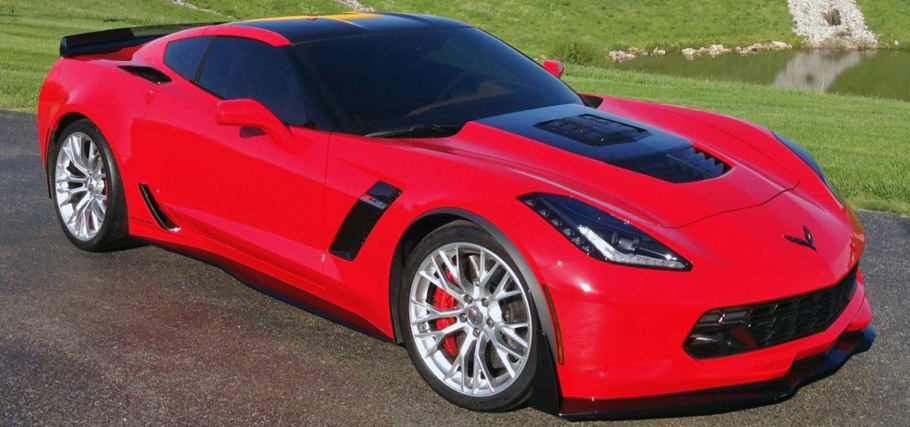 Callaway Cars announced details and numbers for the flagship model in the performance lineup. Corvette Z06 is equipped with Callaway's GenThree Supercharger and produces the stunning 757 hp (556 kW) and 777 lb-ft of torque. The beast will complete the 0-60 mph (100 km/h) sprint in just 2.8 seconds and a quarter mile in 10.5 seconds.
In order to reach that massive power output, the supercharger needs and larger size. The Callaway GenThree supercharger in now 32% per cent larger.
Callaway Cars and the technology incorporated
With great power comes and great cooling. Callaway's engineers know, that maximizing the power also means upgrading the cooling system. They created a special triple-element intercooler configuration, that provides lower and well-controlled inlet charge air temperature, compared to a single or smaller dual-element designs. In fact, the supercharger is visible and even without opening the hood. Cool, right?
SEE ALSO: 2016 Chevrolet Colorado Duramax Will Come with GM's Cleanest Diesel Engine
The supercharger assembly comes with redesigned manifold, that helps maintaining consistent air temperatures and low restriction. The technology even boosts the functionality of the cylinders, which results on broad torque, measured at over 500 lb-ft from 2,000 to 6,400 rpm.
And when it comes to quality, we all know, that Callaway vehicles are crafted with precision and desire and come fresh out of the fabric with warranty and promise for quality and great functionality.
Further Callaway Corvette Z06 Features:
Callaway GenThree Supercharger (pat. pend.)
with Triple-Element Intercooler System
Callaway Supercharger Hood Surround
Callaway Carbon Fiber Engine Mid-Covers
Callaway High Flow Air Intake System
Callaway Embroidered Floor Mats
Callaway Anodized Aluminum Door Sill Panels
Callaway Exterior and Interior Badging
Callaway Underhood Build Plaque with Vehicle Identification Number
Callaway Key Fobs
Callaway Authenticity Documentation Package
Callaway 3 Year, 36,000 Mile Limited Warranty
And at the end what do you get? A confident vehicle with some stunningly high amounts of power, advanced technology and high levels of adrenaline.
Source: Callaway Cars