Carbonfiber Dynamics Releases Massive Update for BMW M4

Carbonfiber Dynamics has done the impossible with this BMW M4 M4R project, which has been substantially modified and features new aggressive appearance, more power and enhanced handling. Starting with the front, the car includes carbon fiber Varis front lip that has aggressive look but that also increases the surface pressure on the front axle. The same material has been used for the VSDC light construction for the System-2 bonnet. Varis Carbon side sills and mirror caps were also installed to make the optical junction between front lip and diffuser.
Speaking of the diffuser it is also made of Varis Carbon fiber and covers the rear floor assembly together with exhaust system. This warrants more surface pressure on the rear axle. The rear also features new apron, adjustable Alpha-N Performance carbon rear wing and one-off Boca Design high-kick carbon rear spoiler.
SEE ALSO: Carbonfiber Dynamics Releases One-Off BMW M4 with 3DDesign-Bodykit 
Performance and Suspension Modifications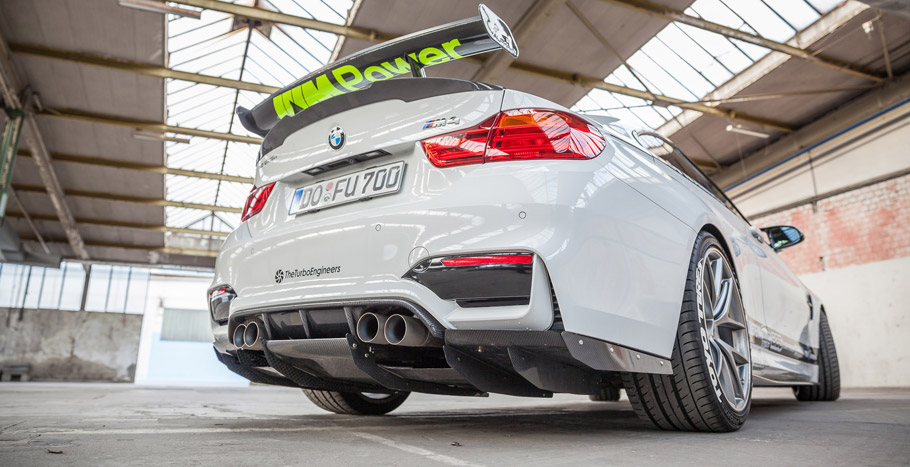 Carbonfiber Dynamics installed a Burger Motorsport JB4 with fine adjustment and CANBUS command, eight different maps, turbo charger upgrade by TurboEngineers which features M4-charger TTE6xx with bigger CNC milled compressor, turbine with grinding, gap optimized compressor side, CNC milled compressor and turbine casing and CNC ported intake manifold.
The Akrapovic down pipe adds power of 23 hp (17.2 kW) at 5,800 rpm and 28.7 Nm (21.1 lb-ft) at 4,950 rpm. The aforementioned exhaust system with valve command and four 8 mm stainless steel mat end pipes give extra 6.5 HP and 4.5 Nm. Via software optimization the car eventually develops at least 700 hp (515 kW) and 827 Newton meters (610 lb-ft) of torque.
This power is transferred onto the road via new BBS platinum silver CI-R rims measuring 20 inches. The wheels are dressed with Toyo Tires Proxes T1 sports tires and this combination is perfectly complemented by the prototype of Bilstein B16 damp tronic coilovers serving as an active suspension solution for BMW-M4 chassis.
At last, the M4 M4R project is also equipped with the first Mov'it brake, which has 6-piston calipers and 392 mm friction rings on the front and 4-piston calipers and 380 mm friction rings on the rear axle.
Source: Carbonfiber Dynamics