2015 Chevrolet Silverado 1500 Crew Cab Special Service Vehicle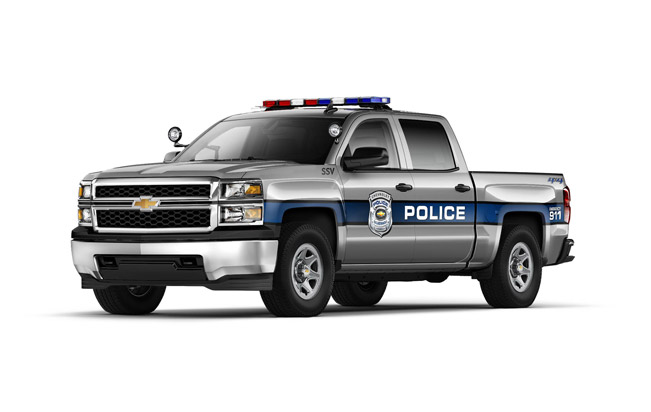 2015 Chevrolet Silverado 1500 Crew Cab Special Service Vehicle (SSV) is joining company's police vehicle line-up. It will go on sale this summer and will offer the same capabilities, efficiency and durability which are attributed to the award-winning Silverado 1500. However it will be equipped with special features designed for police use. The SSV package is to be offered in two trims: 1WT and 1LS. As a basis, Chevrolet has used the Silverado 1500 Crew Cab.
The truck is equipped with the 5.3L EcoTec3 V-8, which produces at 355 horsepower (260 kW) and delivers EPA-rated fuel economy of 23 mpg highway. The engine is available with E85 capability. There is also a choice of 2WD or 4WD models with the standard 6'6" pickup box or a shorter 5'8" box.
In addition, the Silverado SSV comes equipped with a standard 170-amp high-output alternator and 730-CCA auxiliary battery. This will allow officers to operate lights, radios, computers, cameras and other equipment while parked with the engine turned off.
Furthermore, SSV also sports 110-volt outlet for equipment, and comes standard with electrical power supply for four upfitter switches located on the center stack. Daytime running lamps delete, wiring for grille, lamp and sirens, flasher system for headlamps and taillamps and the rear-vision camera are offered as an option.
Inside, the crew cab is fitted with a vinyl rear seat along with large rear doors. Other available interior options comprise of front center seat delete, an auxiliary dome lamp and an electronic four-wheel drive switch located on the dash. Chevrolet will also offer ship-through options for the upfit of light bars, sirens, partitions and additional aftermarket equipment.
Source: Chevrolet