Honda Civic Rated 5 Stars at NCAP
The latest Honda Civic has been rated 5 stars in safety by Euro NCAP. The NCAP tests are the comparable to the Oscars when it comes to automotive safety. Not only has the Civic achieved the highest possible score but, people at NCAP also want to highlight the car's Collision Mitigation Braking System (CMBS) by extending Honda's Euro NCAP Advanced reward because of it.
The NCAP tests take into account large amounts of data for overall pedestrian and occupant safety and announce the results in the form of easy to digest figures for the public. The Honda boasted some great qualities that won the hearts of the NCAP engineers. The "Advanced Compatibility Engineering (ACE) Body Structure" might have something to do with the Civic's safety charm. The idea with this is to cope better with eventual car-to-car frontal accidents. The car's structure allows better distribution of the forces experienced upon impact, which means less stress for the cabin and its occupants. A car participating in an accident with an ACE Civic may also benefit from these properties.
Pedestrian safety has also been addressed by the Honda engineers. The windscreen wiper pivots, for example, are designed to breakaway easily upon impact. Also the front wing mounds and the hood hinges have greater absorbing properties while there is enough space between the hood and the oily bits underneath which means more deformation and felxiblity.
Then there's the standard stuff – some seriously advanced restraining for the occupants and a multitude of airbags all around to keep you safe from harm. Seriously, it has so many airbags that should they deploy all at once, there will be little to no space for you inside.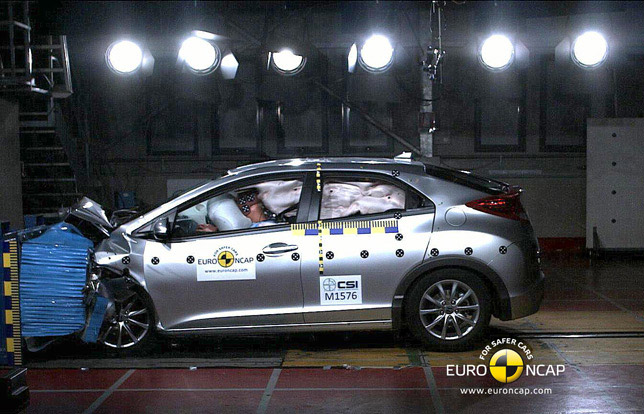 The thing is, it is hard to have a crash in a Honda Civic in the first place. Thanks to an integrated CMBS, the car can detect moving or stationary objects from around a 100m distance up ahead. After detection it quickly decides if there is going to be a collision and if so it sets your hair on fire. Well, what it actually does is send signals to you that .. hey... you might have an accident. If you fail to response, the car will then tighten the seat belts and start applying the brakes (around 2 seconds before estimated impact). If a collision is assessed as inevitable, the system stomps even harder on the brakes and straps you to the seat as harshly as possible. The really impressive thing is that this system is capable of acting upon even at speeds of up to 100km/h on a motorway for example.
So there you go – the Civic joins a family of NCAP veterans, 5 star Honda vehicles. So far, the brand might be one of the safest ever in Europe.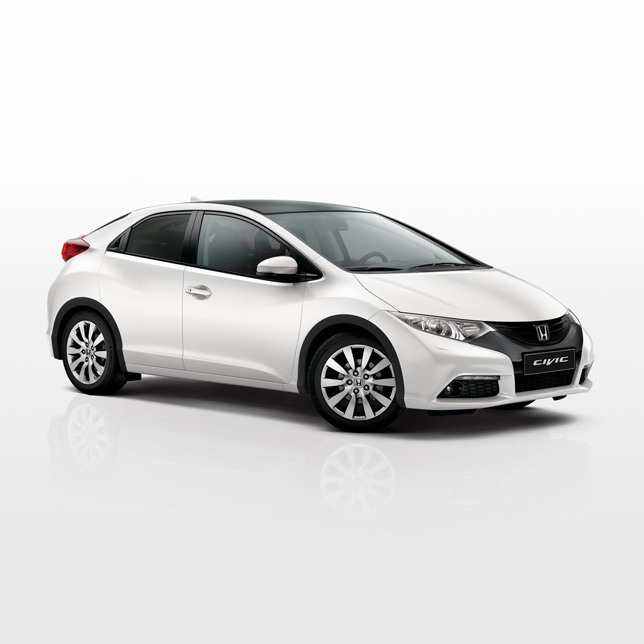 If you love Honda's, check out Lemonfree.com for their inventory of Honda Civic for sale
Source: Honda