Classic Motor Show Restored 1960 Morris Mini
All the celebrations for Mini's 50th anniversary have gone to the head of the organisers of the Classic Motor Show, held at Birmingham's NEC from 13th to 15th November 2009. They are giving the fantastic 1960 Morris Mini restored at last year's show away in a text-to-win competition. For just 50p plus your standard network charge, you can enter to win a classic Mini of your own.
'Mo' as the red Morris Mini has been nicknamed, was restored to its former glory live on stage at the 2008 Classic Motor Show by Edd China from TV's Wheeler Dealers programme. Edd gave the classic red Mini the TLC it needed after five owners and 56,600 miles on the clock, ironing out any niggles and replacing worn parts with new ones such as a carburettor and chrome fittings including early bumpers with over riders, glass indicator lenses, headlight bezels as well as a new windscreen.
Once all the mechanical work was finished, the expert team from Meguiar's gave 'Mo' a full detailing using the full range of their world class car care products, leaving him looking as good, if not better, than new! They also left a gift pack of Meguiar's products in the back, for the lucky winner.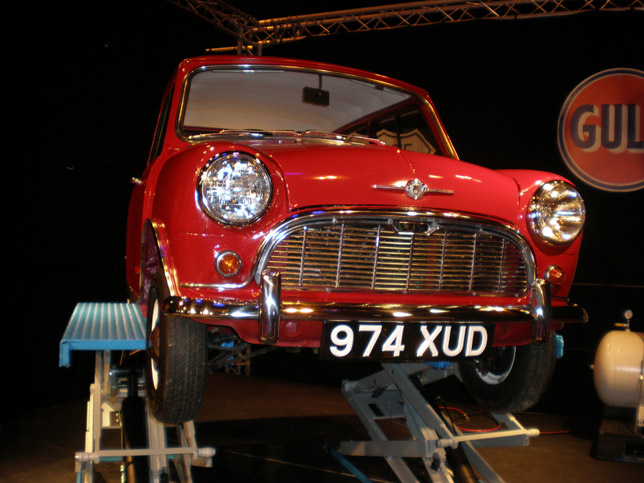 Between now and the 2009 Classic Motor Show, 'Mo' will be out and about at other events such as Beaulieu, Goodwood Revival and the International Mini Meeting later in the year, giving you plenty of opportunities to see 'Mo' and enter for your chance to win. 'Mo' will be presented to one lucky winner at this year's spectacular event held from 13th to 15th November at Birmingham's NEC.
To win the Mini, just text one of the answers to the following question to 80480 along with your name and address.
Q: Which anniversary is the classic Mini celebrating in 2009.
A1: Mini Bronze A2: Mini Silver A3: Mini Golden
Each text costs just 50p plus your standard network charge. Free postal entry is also available by sending a letter clearly stating your choice of answer (from those listed), name, address and contact telephone numbers to Mini Quiz, Clarion Events Ltd, Block A, The NEC, Birmingham, B40 1NT. The winner will be chosen at random and presented with the car at the 2009 Classic Motor Show.
The place to share your passion for classics, the Classic Motor Show has over 1,200 spectacular cars from all over the world. Every motoring taste is catered for with around 200 of Britain's best motoring clubs creating impressive displays of unusual and breathtaking marques while over 300 trade stands sell a wide range of parts, spares, tools, motoring services and memorabilia. If you prefer two wheels, there is a dedicated Classic Bike hall complete with club displays, classic bike concours, stage interviews and the popular bike jumble.