Datsun mi-DO is a Five-Door Hatchback for Russia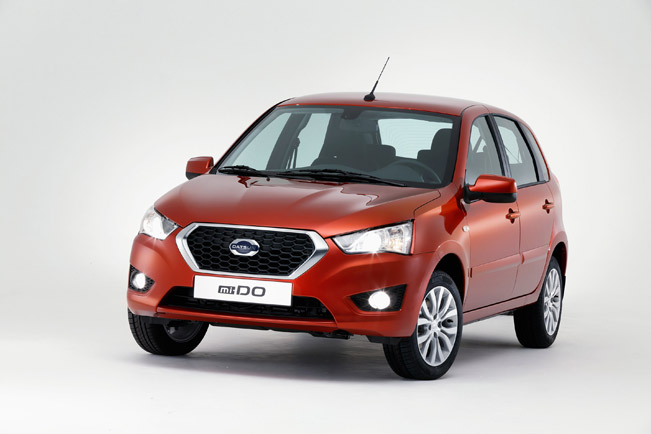 Datsun mi-DO has just made its debut at the Moscow International Autosalon (MIAS). The five-door sibling of Datsun on-DO made it worldwide launch there, being the second Datsun model which will be seen on the streets of Russia. The on-DO was revealed in April this year and its first deliveries are expected in September. mi-DO is a sporty five-door hatchback, which is dominated by brand's confident 'D-Cut' grille.
The grille in turn is flanked by dramatically elongated projector headlamps that stretch virtually from grille to fender. This differentiates the sedan and the hatchback at a glance. Both models however share the same wheelbase and front-wheel drive chassis layout. The mi-DO is shorter which emphasizes its driving dynamics.
Precisely, the wheelbase is 2,476 mm long, 1,500 mm tall and 1,700 mm wide, but the new Datsun mi-DO is 3,950 mm long in comparison to the Datsun on-DO which is 4,337 mm. In terms of equipment, the designers have prioritized the comfort and safety. Every car will have a driver and passenger airbag as well as ABS. As a standard there will be also included a winter pack with heated seats and door mirrors.
The new mi-DO will be powered by the 1.6-liter 8V engine, which produces 87 horsepower (64 kW). The unit will be coupled as a standard with a five speed manual transmission, while the option is the four-speed automatic transmission.
And if you wonder about the names Datsun on-DO and Datsun mi-DO, well they reflect cars' international heritage, encompassing Japanese, English and Russian themes. DO is a Japanese word that translates 'moving' and also refers to a 'way' of doing things. The Russian word 'on' is means 'he', while 'mi' sounds to a Russian speaker like the English word 'me' and personalises the car.
Sales of Datsun mi-Do are scheduled to start in early 2015.
Source: Nissan