DD Customs Refines Chevrolet Camaro SS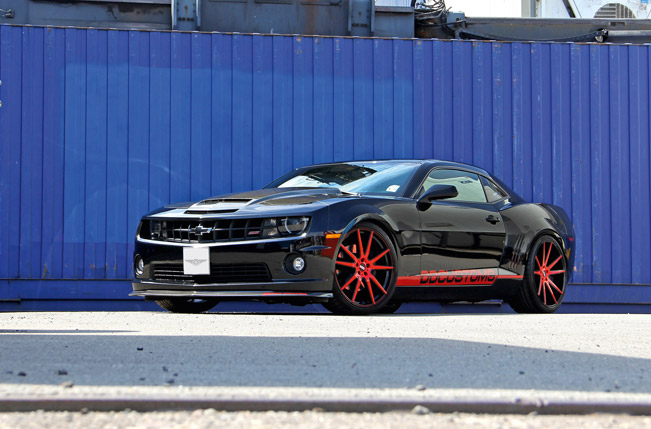 DD Customs Chevrolet Camaro SS comes offering more power and enhanced undercarriage for better transverse dynamics. This Camaro will surely cause goose-bumps in any fan of the muscle car. The production version of this Chevy produces from its V8-engine up to 400 horsepower (294 kW). However, this wasn't enough for the owner and he wanted an improved output. For this reason DD Customs gave the eight-cylinder engine a K&N air filter system, a 2-inch fan manifold, two 200-cell race catalysers and a flap-controlled exhaust system with four 115 millimeters thick end pipes. The result is the staggering 475 horsepower (350 kW) and a a maximum torque of 609 Nm (449 lb-ft).
Next, DD Customs decided to create a special exhaust system for this Chevrolet. When it is with open flaps, the V8 "screams" loudly enough to turn your head after the car, if you by accident didn't see it passing by.
Before the conversion of the engine, the customers gave the Camaro a KW version 1 undercarriage. In this way they have lowered the car and improved its grip. At the same time, they have mounted rare Drewske wheel rim of type STC-10 in the 22-inch format. The wheel rims were then painted in black and red. The wheel/tyre combination perfectly fills the wheel houses and it measures 9x22 inch with 265/30R22 at the front and 11x22 inch with 305/25R22 at the drive axle.
There were also changes made to the outer skin of the muscle car. The tuning company developed in-house a special front spoiler lip made of light-weight carbon fibre. It was attached below the serial bumper. They developed also a carbon cowl, which also makes the car unique. At last, DD Customs integrated a carbon rear diffuser into the car's tail. It frames the four gigantic exhaust end tubes of the flap unit and perfectly rounds out the new appearance of the iconic muscle car.
Source: DD Customs