DeltaWing Four-Passenger Car Is Street-Legal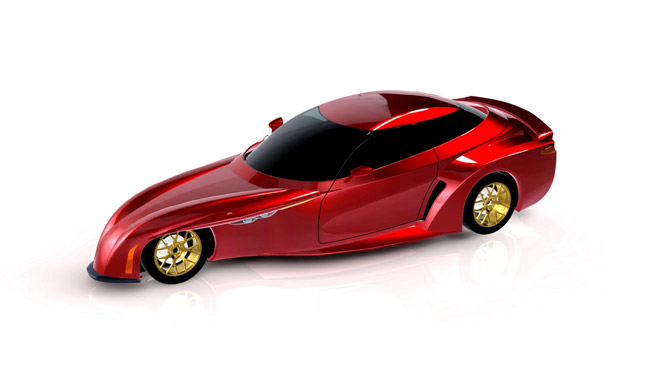 DeltaWing Technologies revealed information about its groundbreaking DeltaWing architecture. It is based on the philosophy of a highly aerodynamic and lightweight design, and draws inspiration from the currently competing in IMSA sports car road races. However, the car presented here is street-legal and has space for up to four-passengers. The published render image shows very unusual aerodynamic car design. It evokes motion, energy and speed
The innovative DeltaWing shape can significantly reduce aerodynamic drag, thus helping increase fuel efficiency. Another highlight is the considerably less overall mass. It was achieved via the use of lightweight steel, aluminum and advanced composite materials.
At the front, this vehicle features narrow-track front wheelbase, which incorporates smaller width tires. The rear-engine design places the center of gravity far to the rear. As a result - less weight on the front axles reduce the rolling resistance and further increase fuel efficiency. Handling is extraordinarily agile, as proven by the narrow front track of the DeltaWing race car.
In fact, DeltaWing Technologies has the goal to deliver fuel efficient, green technologies that benefit everyday drivers and reduce oil consumption and greenhouse gas emissions. This will be achieved via reduced weight, increased powertrain efficiency, decreased energy consumption, and improved aerodynamics.
DeltaWing's vehicle architecture is 35 percent lighter and requires 35 percent less horsepower. It also consumes 35 percent less fuel. The current performance targets are 0-60 mph in about six seconds, 130 mph top test-track speed, and up to 70 mpg with a small displacement, four-cylinder engine producing between 85 and 110 horsepower.
Source: Deltawing