Nissan DeltaWing experimental racecar
Nissan has revealed an interesting concept vehicle. It is called DeltaWing and it will showcase the pioneering technology that will show one potential direction for the future of motorsport and will feed into the research and development of future technologies, that filter down to Nissan's road car product range.
It is powered by a race-prepared 1.6-litre four-cylinder direct injected turbocharged petrol engine. It is badged DIG-T (Direct Injection Gasoline – Turbocharged) and is expected to produce around 300HP, sufficient to give Nissan DeltaWing lap times between LMP1 and LMP2 machines at Le Mans, despite having only half the power of those conventional prototypes.
"As motor racing rulebooks have become tighter over time, racing cars look more and more similar and the technology used has had less and less relevance to road car development. Nissan DeltaWing aims to change that and we were an obvious choice to become part of the project," said Andy Palmer, Executive Vice President, Nissan Motor Co., Ltd.
"But this is just the start of our involvement. Nissan DeltaWing embodies a vast number of highly-innovative ideas that we can learn from. At the same time, our engineering resources and commitment to fuel efficiency leadership via our PureDrive strategy will help develop DeltaWing into a testbed of innovation for Nissan. This announcement gives Nissan the opportunity to become part of a ground-breaking motorsport project and one which could shape the future of the sport," he added.
Nissan DeltaWing is extremely different than everything else on track. The driver sits well back in the car, almost over the rear axle and looks ahead down a long, narrow fuselage to narrow twin front tyres, specially created for the car by tyre partner Michelin.
The engine is rear-mounted and the car has a strong rearward weight bias, which makes it highly manoeuvrable, while its light weight and slippery shape make it far more efficient.
Stay tuned for more information about the Wing!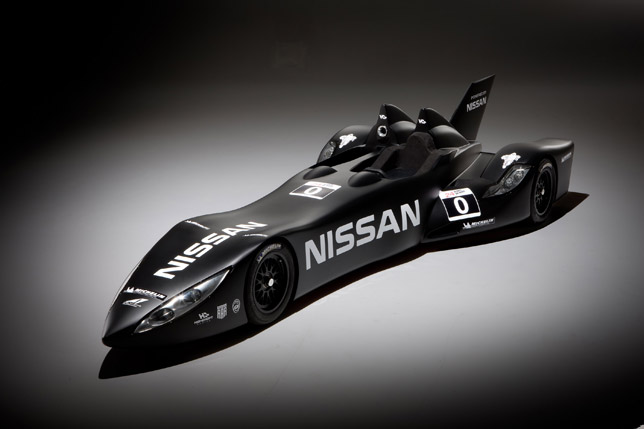 Source: Nissan