TI Automotive Has New Livery For Dodge Viper SRT GTS-R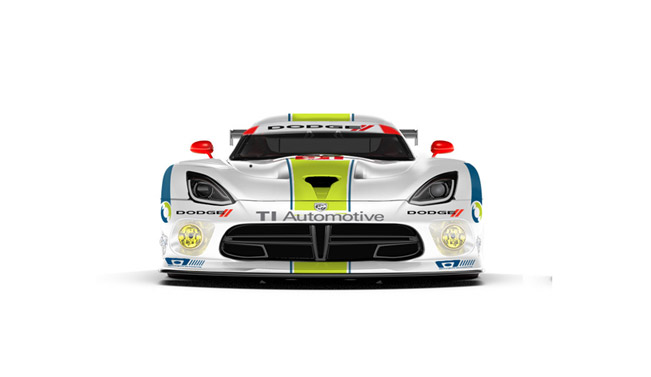 TI Automotive has prepared new livery for the Dodge Viper SRT GTS-R. The car that will carry the special exterior will have the Motorsports No. 91 in the IMSA TUDOR United SportsCar Championship's Brickyard Grand Prix at Indianapolis Motor Speedway. The event will take place on 25th of July on Friday. In addition, the company will join SRT Motorsports as Team Associate Sponsor for Remainder of 2014.
As part of the agreement, TI Automotive, a leading global supplier of automotive fluid systems, will partner with SRT Motorsports as a team associate sponsor for the remainder of the 2014 season. With this collaboration TI Automotive will be introduced to a wider audience.
Furthermore, TI is a current supplier of the high-performance fuel pump module system to the production Viper and the recently released Dodge Challenger SRT Hellcat. This system includes Automotive News PACE Award-winning Dual-Channel Single-Stage (DCSS) fuel pump which is regarded as one of the industry's highest-performing fuel pumps. As a matter of fact, this fuel delivery design makes 2015 Dodge Challenger SRT Hellcat the fastest and most potent muscle car ever built.
Precisely, the livery of the No. 91 vehicle will include a white body with bright green stripe outlined in dark blue from nose to tail. TI's blue-and-green Fluid thinking icon will be positioned on the top of the roof and on other key points across the vehicle.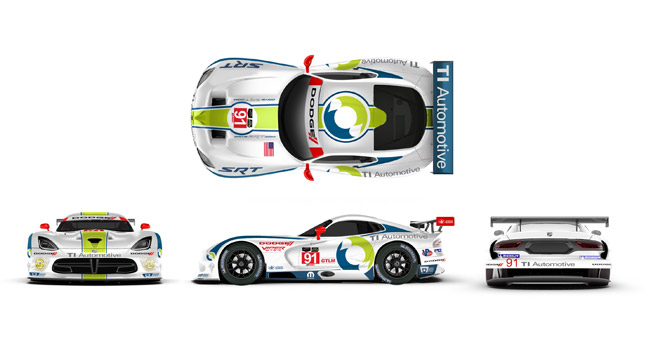 Source: TI Automotive