Gemballa Porsche 991 Carrera S Convertible With GT Aerodynamic Package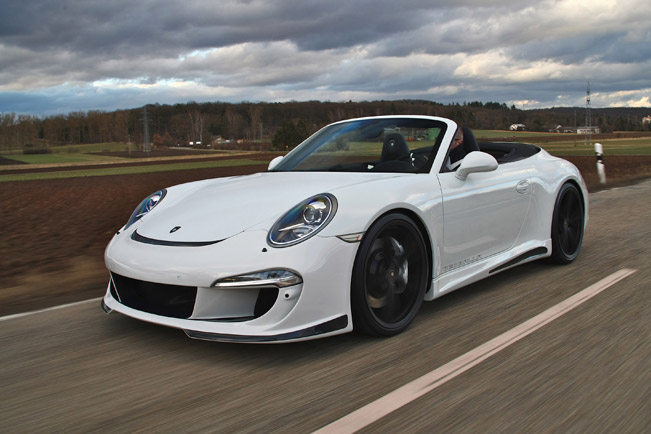 Porsche 991 Carrera S Convertible is now being equipped with a special aerodynamic and technology package especially created to enhance its GT capabilities. Gemballa is staying behind this project.
The face of the Gemballa GT aerodynamic package consists of a strongly contoured front bumper, whose three large cooling air intakes and carbon-fibre spoiler lip give the Porsche more aggressive stance. Moreover, the curvaceous lines of the 991 Carrera S Cabriolet are further accentuated by the more heavily contoured side skirts that lead the eyes to the re-imagined rear.
At the rear we have dark painted recess in the bumper, carbon-fibre strip between the lights, diffuser with cutouts for the exhaust pipes and Gurney lip spoiler. All of these components are made of carbon-fibre and can be delivered in either natural look or painted body colour.
What is more, here is also included the dual triple-tail pipe exhaust system with throttle activated sound control. This is an interpretation of company's six-pipe exhaust first seen on the Gemballa Avalanche. What is important to mention here is that this system has a lower backpressure worth up to 10 horsepower.
The height of the car is decreased by 20 mm, thanks tot the shorter, uprated sport springs that work with the factory PASM active damping system. They are combined with the Gemballa-21-inch GForged-one wheels, which are available in "black magic" or "gunmetal" color choices with or without a glossy turned "diamond cut" finish. Another unique feature here is the high performance brake system which was created in collaboration with Brembo and provides shorter stopping distances.
In terms of interior, the palette of materials and colours utilized include the finest Alcantara, carbon-fibre or aluminium. Here can also be found the latest multi-media equipment, delivering state-of-the-art in-car entertainment.
Source: Gemballa